North Korea's Kim Signals Openness to Talks With Tokyo
Over the weekend, Moon briefed Abe by telephone about his discussions with Kim.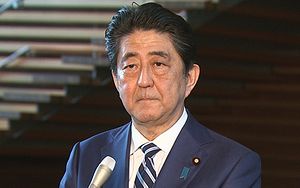 North Korean leader Kim Jong-un has signaled his openness to talks with Japan, according to the South Korean government. However, it remains unclear whether Pyongyang is prepared to reopen an investigation into the fate of Japanese nationals abducted by North Korean agents decades ago – Tokyo's key goal when it comes to engagement with the regime.
Japan, which found itself somewhat on the sidelines after Kim's recent turn towards diplomacy, has been lobbying South Korea and the United States to take up the abduction cause in their direct talks with North Korea. As a result of this outreach, South Korean President Moon Jae-in had promised Japanese Prime Minister Shinzo Abe that he would tell Kim during their historic summit meeting last Friday that the resolution of the abduction issue "would be of help in establishing peace in northeast Asia."
Over the weekend, Moon briefed Abe by telephone about his discussions with Kim. Moon told Kim of Tokyo's desire to normalize ties with Pyongyang, and the North Korean leader replied that he was willing to meet with Abe, according to an account by the South Korean presidential office. "President Moon offered to lay a bridge between North Korea and Japan," Moon's spokesman, Kim Eui-kyeom, said, per Yonhap News Agency. Abe told reporters that he wanted to thank Moon "for his sincerity" in raising the abduction issue as promised.
Incidentally, Seoul's openness with the press about Kim's statements seems to have caused something of a stir in Tokyo. After Abe and Moon spoke by phone on Saturday, Abe declined to tell local media any details of Kim's response. Shortly afterwards, however, the details were released by South Korea. In Tokyo, a senior official at the prime minister's office was reported to have questioned Moon's honesty and motivations. "We can't verify at this point just how accurate Mr. Moon was about Mr. Kim's remark. There is a possibility that Mr. Moon wants to boost his support rate at home for being a mediator between Japan and North Korea," the unnamed official told Kyodo News. Tokyo was said to be seeking an explanation from Seoul.
The timing of potential Japan-North Korea talks remains to be seen, but it is unlikely to be before the U.S.-North Korea summit. Japan is wary about moving too far down the course of dialogue, without some assurances that North Korea is really committed to denuclearization and willing to revisit the abduction issue.
Japan's foreign minister, Taro Kono, said in a weekend statement that the government was looking for "concrete actions." This, he said, should include "the dismantlement of all weapons of mass destruction, including biological and chemical weapons, and ballistic missiles of all ranges in a complete, verifiable and irreversible manner." The latter comment reflects the concern in Tokyo that U.S. President Donald Trump might be tempted to do a deal with Mr Kim that curbs intercontinental ballistic missiles that threaten the U.S. mainland without addressing the shorter-range weapons that are within range of Japan.
Kono met with the new U.S. Secretary of State Mike Pompeo, during a visit to the Jordanian capital on Monday and argued against any let-up in the "maximum pressure" campaign against the North. Pompeo may have been able to shed some light on Kim's negotiating position, since he met with the North Korean leader during a previously secret trip to Pyongyang over Easter. Kono and Pompeo agreed to continue to coordinate closely. Kono floated the idea that Japan, the U.S. and South Korea should reach a common position on the deadline for North Korea's denuclearization.