Malaysia-Philippines Meeting Puts ASEAN Subregional Cooperation in the Spotlight
A recent interaction was an important reminder of the efforts being made by both sides to address cross-border issues.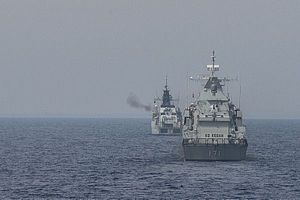 Last weekend, Malaysian and Philippine officials met for an iteration of a two-way partnership program in the southern Philippines that put subregional cooperation in Southeast Asia into focus. The interaction, which featured a meeting with the governor of the Philippine province of Palawan, was just the latest development that demonstrates the priority both sides continue to place on cross-border security and economic issues.
As I have noted before, some of the border areas between eastern Malaysia and the southern Philippines, despite belonging to different countries, are in reality quite porous, with economic, security and people-to-people links between them that can present both opportunities as well as challenges for governments, businesses, and populations at large more generally (See: "Confronting Threats in the Sulu-Sulawesi Seas: Opportunities and Challenges").
The Brunei-Darussalam-Indonesia-Malaysia Philippines East ASEAN Growth Area (BIMP-EAGA) – an initiative set up in 1994 to promote economic ties which consists of Palawan and Mindanao in the Philippines, the states of Sabah and Sarawak and the Federal Territory of Labuan in Malaysia, ten provinces on the islands of Kalimantan, Sulawesi, Maluku, and Irian Jaya in Indonesia – is an example of the opportunity side of subregional cooperation.
On the challenges side, the porousness of these borders and weak governance in some areas have also resulted in conflict, crime, and poverty, making them potential hubs for transnational organized crime – including kidnapping, drug trafficking, and people smuggling – as well as terrorism, piracy, and illegal fishing. In particular, over the past few years, fears of the growing reach of the Islamic State into Southeast Asia – made clear by the Marawi crisis that erupted in May – have also drawn attention once again to the Sulu-Sulawesi Seas, leading Indonesia, Malaysia, and the Philippines to approve trilateral patrols in the area (See: "What's Next for the New Trilateral Sulu Sea Patrols?").
Lingering interstate disputes can also flare up from time to time, as they did following the invasion of Sabah by Philippine militants in 2013 known as the Lahad Datu incident. That incident had led to the Malaysian government's greater focus on boosting the assets of its Eastern Sabah Security Command (ESSCOM) – the body that oversees the Eastern Sabah Security Zone that covers around 1,400 kilometers of the east coast of Sabah from Kudat to Tawau – even amid continuing budget constraints (See: "Where are Malaysia's New Warships in its Military Modernization?").
Last weekend, Malaysian and Philippine officials held an iteration of a bilateral partnership program. According to ESSCOM Intelligence Deputy Chief of Staff ACP Hashim Justin, who headed the Malaysian delegation and was also joined by others including BIMP-EAGA Chairman Roselan Johar Mohamed, the purpose of the bilateral partnership program was to look into various forms of collaboration that both sides could take facilitated by institutions such as ESSCOM and BIMP-EAGA. Events included a meeting with Palawan Governor Jose Alvarez on Mangsee Island in the southern Philippines, though other officials including Mangsee Island village chief Aziz A. Hamzah and Philippine National Police Provincial Director for Puerto Princesa also were present.
The interaction comes as no surprise. Of course, as Hashim rightly emphasized, the people to people connectivity between two areas is clear because despite being separated by national borders, people in the southern Philippines, including those on Mangsee Island, have relatives in parts of Malaysia like Kudat and Pulau Banggi. But beyond that, the worsening of the cross-border security situation has also been a concern for both sides over the past few years, especially since it has at times negatively affected and even interrupted commercial activities between areas that would otherwise be on the uptick. In response, Malaysian and Philippine officials have been looking at ways in which they can improve the situation, including facilitating more interactions between ESSCOM and Palawan.
ESSCOM's involvement in these kinds of interactions is important in this respect. It has been quietly engaging local Philippine officials on sensitive issues, from increasing intelligence cooperation to root out cross-border criminal activities – which requires the education and involvement of citizens as well – to trying to address encroachments by Philippine fishermen into Malaysian waters. Institutions such as BIMP-EAGA also have a key role to play, because they can help develop areas far from administrative centers like Mangsee Island that could use that kind of assistance.
Given the sensitivity around some of the issues being addressed, the statement and remarks coming out from both sides were predictably focused on generalities as well as centered around the people-to-people and economic aspects of cross-border activities. And beyond a series of meetings as well as a contribution by BIMP-EAGA in terms of daily necessities to the people of Mangsee Island, few specifics were publicly disclosed as to the outcomes, whether accomplished or planned. Nonetheless, the meeting itself was a useful reminder of the often overlooked but important angle of subregional cooperation at the local level between Southeast Asian states.