North Korea Shows Increased Operational Confidence in the Hwasong-12 IRBM
A return to a more conventional firing mode suggests increased operational confidence in this missile.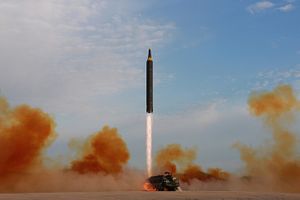 As expected, North Korea released images on Saturday morning of its launch of a Hwasong-12 intermediate-range ballistic missile the day before.
That launch became the second the three weeks to overfly Japan and the first ballistic missile launch out of the country since its claimed test of a hydrogen bomb on September 3, which earned it a new round of sanctions at the United Nations Security Council.
The images released on Saturday through North Korea's state-run Rodong Sinmun newspaper, along with video footage broadcast on Korean Central Television (KCTV), showcases more than a few interesting details about the launch, showing just how far the Hwasong-12 program has come since the missile entered testing in April 2017.
For analysts who'd been tracking the Hwasong-12 since April, one detail immediately stood out from the images released: North Korea was using a new firing mode for the missile.
In May 2017, when the missile saw its fourth test overall and first successful test, the images released made clear that North Korea was using an unusually cautious firing mode. Specifically, the missile was driven up to an elevated launch pad on a transporter-erector vehicle (a large, armored truck that carries the missile) after which it would be erected on a static firing table. After this, the transporter-erector would drive away and the missile was launched.
Saturday's images show that North Korea has now progressed to a more conventional and operationally elegant transporter-erector-launcher (TEL) configuration. The missile is erected onto a mobile firing platform with the TEL still in place. This change suggests that North Korea is increasingly confident in the performance of the Hwasong-12.
After failing three times in May, the missile has now succeeded three times in a row, with two of the most recent successes involving flights at a normal trajectory over Japan.
The Hwasong-12's testing in April, interestingly, involved a TEL firing mode; explosions shortly after launch may have damaged those TELs, prompting North Korea to exercise caution. Its inventory of TELs is limited and losing these vehicles to missile-testing mishaps would be costly.
The images and video from Saturday's launch also showcase the missile's operation from the Sunan airfield, near Pyongyang's international airport.
This time, the TEL fires from an arbitrary part of the airstrip, without using a specially paved launch pad that would observable by adversarial intelligence services.
Combined with the new firing mode, this would presumably offer North Korea greater survivability for its Hwasong-12 systems early in a crisis.
North Korea has said that these missiles would be used in a first-strike against U.S. forces on Guam should it detect an attempt at preemptive war by the United States and South Korea.