US, Japan, South Korea to Hold Missile Tracking Exercises
The United States and its two Northeast Asian allies continue trilateral cooperation on missile defense.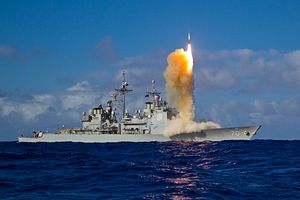 The United States, Japan, and South Korea will begin two days of ballistic missile defense exercises starting on Monday, Japan's Maritime Self-Defense Force announced. The exercises will focus on tracking ballistic missile targets and information-sharing between the three countries and will be the sixth of their kind. The exercises follow North Korea's late-November launch of the Hwasong-15 intercontinental-range ballistic missile (ICBM), its largest tested missile to date.
The ballistic missile defense exercises follow bilateral U.S.-South Korea military exercises last week, which focused on coordinated fighter aircraft and bomber operations. North Korea protested the exercises, with its state media claiming that continued drills would guarantee war. The trilateral drills will also follow North Korea's first-ever overflights of Japan with systems identified as ballistic missiles in August and September.
While North Korea had overflown Japanese territory previously with satellite launch vehicles, the launches of Hwasong-12 intermediate-range ballistic missiles (IRBMs) this year are the first to involve missiles designed to deliver nuclear weapons. Both of those missiles splashed down without incident in the northern Pacific Ocean after overflying Hokkaido, Japan's northernmost major island. North Korea has carried out 21 ballistic missile launches this year, including launches of short-, medium-, intermediate-, and intercontinental-range ballistic missiles.
To date, trilateral ballistic missile defense activities between the three countries have focused primarily on their naval assets, which include Aegis-equipped guided missile destroyers armed with SM-3 interceptors.
These systems are capable of intercepting short-, medium-, and intermediate-range ballistic missile targets outside the earth's atmosphere in their midcourse phase, depending on their positioning in relation to the trajectory of the incoming missile. In 2018, the United States and Japan will deploy their co-developed SM-3 Block IIA interceptors, which are more advanced than the currently deployed Block I interceptors.
Japan and South Korea each have alliances with the United States, but there is no trilateral alliance between the three countries. Tokyo and Seoul continue to have major differences between them, but cooperation on ballistic missile defense with regard to North Korea, including intelligence-sharing, is a burgeoning area of trilateral cooperation between the countries.