US Intelligence: North Korea's Sixth Test Was a 140 Kiloton 'Advanced Nuclear' Device
North Korea's sixth nuclear test was easily its biggest yet, according to early U.S. intelligence estimates.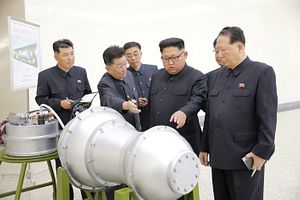 North Korea's sixth nuclear test on Sunday released 140 kilotons of TNT equivalent, according to a new U.S. intelligence assessment. The margin of error on the early U.S. assessment is not known and the specific explosive yield figure may be revised, but the U.S. intelligence community assesses this device to have been several times more powerful than North Korea's previously most powerful nuclear test in September 2016.
U.S. government sources with access to the latest intelligence regarding North Korea's nuclear weapons program have told The Diplomat that its sixth nuclear test also involved an "advanced nuclear device."
Per the early assessment shared with The Diplomat, the device was either a boosted fission device or, as North Korea claimed in its state media, a two-stage thermonuclear bomb. It's unclear if the device test was the specific device North Korea showed in photographs prior to its test on Sunday.
The test, which took place at North Korea's nuclear testing site Punggye-ri, created a major seismic event, leading to detectable tremors in both South Korea and China as well.
The South Korean and Japanese governments have each released early assessments putting the test at 50 kilotons and 70 kilotons of TNT equivalent respectively.
Open source researcher assessments, depending on the seismic data used and device depth assumptions, range from the approximately 60 kilotons to more than 500 kilotons. NORSAR, a Norway-based geophysical research organization, assessed the test to have yielded 120 kilotons of TNT equivalent.
Estimating the explosive yield of a device buried at an unknown depth off the observed seismic signature alone is imperfect. Different earthquake monitoring agencies and organizations dedicated to monitoring underground nuclear testing, like the Comprehensive Nuclear Test-Ban Treaty Organization, recorded different magnitudes as well.
The United States and Japan have aircraft-borne sensors capable of detecting released radionuclides after a nuclear test. Both countries deployed these aerial systems after Sunday's test to attempt radionuclide collection.
The detection of specific radioactive isotopes in the atmosphere after a nuclear test can help determine with more precision if the type of device tested was a two-stage thermonuclear bomb.
However, North Korea's underground nuclear testing to date has been successful in preventing what is known as "venting"–or the atmospheric release of contaminants.
Sunday's test did result in what appeared to be a secondary seismic event–likely an underground cavity collapse–that may have compromised North Korea's attempts to prevent venting that would allow U.S. and Japanese aircraft to collect radionuclide data, but this remains uncertain. U.S. sources, nevertheless, confirm that the second seismic event produced a cave-in that was externally observable.
Nevertheless, North Korea, in its state media statement on its latest nuclear test, noted that "there were neither emission through ground surface nor leakage of radioactive materials nor did it have any adverse impact on the surrounding ecological environment (sic)."