India-Indonesia Maritime Patrols Kick Off
Both sides launched another iteration of their coordinated patrols this week.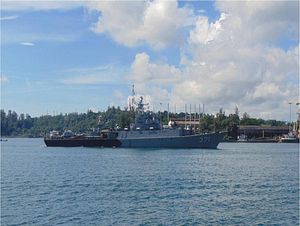 This week, India and Indonesia began another iteration of their biannual joint naval patrols. The engagement was one manifestation of the continued efforts by both Asian powers to advance their defense cooperation in the maritime security realm.
India and Indonesia, two large Asian democracies, strategic partners, and Indian Ocean littoral neighbors, have been looking to advance their defense ties in recent years, with New Delhi seeing this as part of its Act East policy to advance ties with Southeast Asian states under Narendra Modi. As I have written previously, though there does tend to be sensationalism around this dimension of the relationship, there have been efforts by both sides to deepen ties in some areas, from upgrading their existing defense cooperation agreement and related dialogues to making inroads in functional areas like maritime security (See: "The Future of India-Indonesia Defense Ties").
One manifestation of India-Indonesia defense ties in the maritime security realm are coordinated patrols along the international maritime boundary. Since 2002, the Indian Navy and the Indonesian Navy (TNI-AL) have been participating in coordinated patrols near the international maritime boundary line twice a year, usually in April and October. The so-called Ind-Indo CORPAT is geared toward both enhancing interoperability and boosting capabilities in areas such as search and rescue, environmental management, and ensuring the safety of commercial shipping and international trade in the Indian Ocean.
Traditionally Ind-Indo CORPAT has seen the deployment of one ship and one fixed wing aircraft from each country. But both sides have also been boosting it over time, whether through the level of participation by military officials or the holding of a bilateral maritime exercise embedded within an expanded version of CORPAT since October 2015 (See: "India-Indonesia Kick Off Joint Naval Patrols").
On October 24, both countries kicked off the 30th edition of CORPAT as well as the third iteration of their newer bilateral exercise as part of that in Port Belawan. Following the arrival of the Indian Navy ship Sukanya, New Delhi said that apart from the exercise itself, which will last till November 5, related engagements would include official calls, a formal reception on board the ship, guided tours for Indian naval personnel, and professional interactions between the naval personnel of both nations. It added that CORPAT was a demonstration of India's commitment to its ties with Indonesia and to the maritime security in the Indian Ocean Region.