India Warships on Philippines Voyage Amid ASEAN Anniversary
Act East voyage continues as both sides commemorate 25 years of partnership.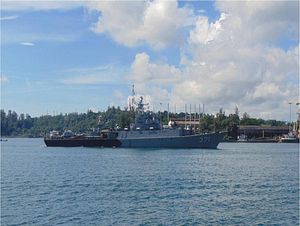 Over the weekend, the Philippine Navy (PN) confirmed that two Indian Navy warships would be making a goodwill visit to the Philippines this week. In addition to being a boost for bilateral ties, the move is part of commemorations under way marking 25 years of partnership between India and the Association of Southeast Asian Nations (ASEAN).
As I have noted before, the Indian government under Prime Minister Narendra Modi has attempted to signal a more action-oriented policy towards ASEAN specifically and East Asia more generally through its Act East Policy, in contrast to India's original Look East Policy first formulated under Prime Minister Narasimha Rao in the 1990s (See: "Modi Unveils India's Act East Policy to ASEAN").
2017 is an especially significant year for ASEAN-India relations, since it marks the 25th anniversary of India's partnership with ASEAN. Though cultural ties data back over two millenia, India formally became a sectoral dialogue partner of ASEAN on January 28, 1992, after which both sides became full dialogue partners in 1996, summit partners in 2002, and strategic partners in 2012. As such, a series of events have been planned thoughout 2017 as it is a key commemorative year.
In early September, as part of the commemorations for the 25th anniversary, the Indian defense ministry disclosed that two Indian Navy ships would proceed on a three-month deployment to East and Southeast Asia covering 12 ports after leaving the Indian port of Visakhapatnam on September 8.
During the deployment, the ships – the INS Satpura, a multi-role stealth frigate commanded by Captain Rahul Shankar, and the INS Kadmatt, an anti-submarine corvette led by Commander Nithin Cariappa – were to visit Singapore, Indonesia, Malaysia, Thailand, Vietnam, Cambodia, Philippines, South Korea, Japan, Brunei, and Russia. The ships were scheduled for a range of activities in Southeast Asian states, from regular port visits to humanitarian assistance and disaster relief (HADR) exercise in Malaysia.
On October 1, PN spokesperson Captain Lued Lincuna confirmed on the Philippine side that two Indian Navy warships would be making a goodwill visit to the Philippines, which is chairing ASEAN this year, from October 3 to 6. The INS Satpura and the INS Kadmatt, he said, would be docking t Pier 15 in Manila's South Harbor.
Lincuna did not provide much detail on the specifics of the goodwill visit beyond this. But he did disclose that the warships would meet the BRP Rajah Humabon off Corregidor before being escorted to their berths as is customary. He also framed the visit as an attempt to both boost bilateral ties as well as to commemorate ASEAN-India relations.