Is the Philippines Violent Drug War Spreading to Indonesia?
The war on drugs is popular, even as the bodies pile up.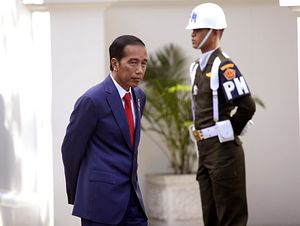 The Philippine war on drugs, led by President Rodrigo Duterte, has been eviscerated by human rights advocates due to its reliance on extrajudicial killings. Meanwhile, neighboring Indonesia has been much more quietly ramping up its own war on drugs, but here, international attention has been limited outside of two series of high profile executions. But in the past few months, several news outlets have reported that the country's empowered anti-drug forces have killed alleged drug criminals across the country, another sign that Indonesia is borrowing tactics from it's neighbor.
"The fact that people are being killed by police and unidentified attackers with impunity, at a rapid rate and massive scale — over 12,000 — for over a year now is a brutal atrocity," Gloria Lai, senior policy officer at the International Drug Policy Consortium (IPDC), told The Diplomat. "The influence this can have in enabling similar tactics by governments in the region is a significant concern, particularly as the Philippines is chair of ASEAN in 2017 and has been using this platform to call on member states to support the war on drugs."
In fact, we can see a shift in the rhetoric coming from Indonesian leaders on the use of violence to tackle the so-called drug crisis. Just a year ago, Indonesia's President, Joko "Jokowi" Widodo, while praising his Philippines counterpart stated that such a system was not acceptable under Indonesian law. But this year, he stated that the police and the Badan Narkotika Nasional (National Narcotics Bureau, BNN) should not hesitate to shoot drug offenders because they are "ruining our country."
"You can see there is a change in approach to drug offenses," Ricky Gunawan, a human rights lawyer with LBH Masyarakat (Community Legal Aid Institute), told The Diplomat. "When the President gave the green light, the chief of national police followed. This is worrying."
This green light is being interpreted liberally, and the numbers, according to IPDC are getting worse. Last year, there were an estimated 16 people killed during drug enforcement operations in Indonesia. Already this year, that number has jumped to 80, with little to no analysis or investigation into whether the use of deadly force was necessary, or even if the victims were truly drug criminals.
"We often see news reports of arrests, law enforcement raids, drugs being seized or burned, but high numbers of arrests or people in prison do not mean that the supply or demand for drugs has fallen, or that the health or safety of communities have improved," said Lai.
While the use of extrajudicial killings is a worrying trend, the focus on drugs from among myriad problems the country faces should come as no surprise. Indonesia's president seems obsessed with drugs, and once even called drugs the #1 problem facing Indonesia, despite vast evidence not only showing this is not true, but that heavy-handed tactics only make the situation worse.
The reason may be more political than factual. Jokowi had a tough first year as president, failing to meet lofty expectations until he went forward with the controversial decision to execute several foreign nationals, most notably the Australian duo Myuran Sukumaran and Andrew Chat in April 2015. While Indonesia's global image suffered, Jokowi's popularity among Indonesians rose. In fact, his approval ratings surged every time there was a round of executions. That's because the war on drugs remains incredibly popular in Indonesia.
"Indonesians still support how government and police deals with drugs, and they say the police is doing a good job," said Gunawan. "There is no criticism from the public on how police deals with drugs offenders."
For Gunawan and many in Indonesia's human rights community, the ramping up of an unnecessary and violent war on drugs, and giving more power to both the BNN and the national police, is just the latest disappointment from a president who, back in 2014, received ample support from civil society. Instead of fulfilling his promise to improve the country's human rights record, Jokowi has taken it several steps backwards. It's not just his use of executions, or even the ramping up of the war on drugs, but his lack of action on the festering crisis in West Papua and his inability to bring justice to victims of the 1965 purges.
Unfortunately, this might be a sign of things to come. Jokowi is facing increasing challenges as he nears the next election in 2019. The stunning victory of Anies Baswedan, supported by Jokowi's 2014 opponent, Prabowo Subianto, over Jokowi's ally, Basuki "Ahok" Tjahaja Purnama, in the Jakarta governor's race has forced Jokowi to cover his right flank. Expanding the war on drugs is one way he can align himself with the country's increasingly powerful Islamic right, who he has been actively courting since Ahok's defeat.
"It's not just drugs. Jokowi is now trying to get more votes from the Muslim population, and that's why he is now close to some Islamist organizations," said Gunawan. "Islamic organizations condemn drug offenses. If he is being lenient on drug issues, he will lose support from the Islamic public."
Thus, a heavier focus on drugs, and visible actions like police raids show Indonesians that Jokowi is taking action. Even if, in the end, the effects will be negligible. Most evidence from previous and ongoing long-term, police and force-heavy wars on drugs in countries like the United States, Mexico, and Colombia, shows that such efforts have little effect. Where progress has been made it has been when a public health approach is taken, as is the case in the Netherlands, Portugal, and parts of Canada. Unfortunately, a similar approach is unlikely to work in Indonesia, the Philippines or its neighbors, at least in the short term.
"This is a region with perhaps the harshest drug policies in the world," said Lai. "This has been driven by misinformation about drugs and drug use, and the effectiveness of existing drug policies, which has created extensive stigma and fear about people who use drugs and any drug-related activities."
"The right choice would be greater public education about the real harms of drugs, and greater investment in public health and drug rehabilitation programs. Those, however, would not win Jokowi many political points with the communities he needs the backing of to be re-elected. Neither would the police and BNN – who are gaining power and influence through the war on drugs – likely to agree to a less force-heavy policy. This is why, as of right now, there are is a lack of people within Indonesia's government willing to speak out against the war on drugs.
"To date there are no politicians brave enough to publicly say that the way we are dealing with drug problems in Indonesia isn't just only failing but damaging to human rights," said Gunawan.
A silver lining? There's at least one thing we may not see much more of. Executions. After two rounds of controversial, internationally condemned executions, the latest of which was so badly run that the national Ombudsman and Supreme Court are reviewing the Attorney General's process, it is doubtful that we'll see Jokowi attempt another round. And why would he? Allowing for a small number of extrajudicial killings could give him the best of both worlds – the populist support from taking action on drugs without the negative, international response sparked by an execution.
"These killings, they will maintain populist approach, but avoid international condemnation," said Gunawan. "And it's far less than the Philippines, so the international community will condemn the Philippines, but not here, as it has not yet touched 100 people."
Which means, out of the sight of most global observers, the death count from this wasteful war on drugs will likely continue to rise as long as popular support is behind it. Such is the reality in today's Indonesia.
Nithin Coca is a freelance writer and journalist who focuses on cultural, economic, and environmental issues in developing countries. Follow him on Twitter @excinit.