Warship Spotlights Malaysia-Philippines Naval Exercise
Both sides are getting ready to hold the next iteration of a maritime training activity.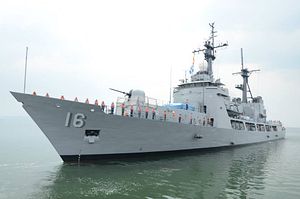 The departure of a Philippine warship, which is off to visit Brunei and then on to Malaysia, has spotlighted the next iteration of a maritime training activity between Manila and Kuala Lumpur that will kick off in mid-October.
As I have noted before, Malaysia and the Philippines, both fellow members of the Association of Southeast Asian States (ASEAN), have long tried to forge greater cooperation to deal with a range of security threats – including terrorism, piracy, and illegal fishing – in spite of differences that remain between them (See: "Confronting Threats in the Sulu-Sulawesi Seas: Opportunities and Challenges").
Ongoing cooperation between the two sides is more wide-ranging than often understood, including not just headline-grabbing developments like the trilateral patrols in the Sulu-Sulawesi Seas, but also subregional collaboration between some of the border areas between eastern Malaysia and the southern Philippines ("Malaysia-Philippines Meeting Puts ASEAN Subregional Cooperation in the Spotlight").
One of the manifestations of bilateral security cooperation is MTA MALPHI LAUT, an annual bilateral maritime training activity (MTA) named after the first part of both countries' names. Since the two countries signed a memorandum of understanding in 1994, they have held 18 iterations of MTA MALPHI LAUT.
The last one occurred last year in late August. The Philippines' Naval Forces Western Mindanao (NFWM) hosted the five-day engagement, held ashore and afloat in Zamboanga City and in the Moro Gulf and focus on maritime security and transnational crime. The exercises involved three phrases – a harbor phase, at sea trials, and a series of recreational activities and featured nearly 300 sailors from the Philippine Navy (PN) and the Royal Malaysian Navy (RMN)
The next iteration of the exercise will be at Kuantan Naval Base in Malaysia and will last from October 16 to 25. But over the weekend, it was in the news because the PN held a sendoff ceremony for one of its warships, the BRP Andres Bonifacio, which will be attending it along with around 200 Sailors. The event was held in the morning of September 29 in South Harbor, Manila.
The BRP Andres Bonifacio will first participate in the Golden Jubilee Celebration of the Sultanate of Brunei before heading over to Malaysia for the next iteration of MTA MALPHI LAUT.