China-Japan Relations Move Toward a 'New Start'
Japan's prime minister met with the Chinese president and premier on the sidelines of the APEC and ASEAN meetings.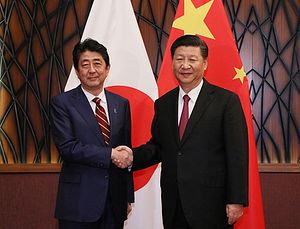 China and Japan are apparently moving toward a rapprochement.
On  November 11, Chinese President Xi Jinping met with Japanese Prime Minister Shinzo Abe on the sidelines of the Asia-Pacific Economic Cooperation (APEC) leaders' meeting, held in Vietnam. According to China's state news agency, Xinhua, during the meeting, although Xi's tone still remained hard, he made it clear that China is willing to improve ties with Japan.
Xi said that mutually beneficial cooperation is the momentum to drive China-Japan ties forward, and the two sides should improve the level of pragmatic cooperation in the new situation.
Specifically, Xi urged both sides to promote regional economic integration, and push for cooperation within the framework of the Belt and Road Initiative — Xi's signature foreign policy.
Yet, Xi didn't forget to remind Abe about some "major differences" between the two countries — including "history, Taiwan, and other major issues of principle concerning the political foundation of the China-Japan relations" — and asked Abe to properly manage these differences in a "constructive way."
Interestingly, Abe's comments on his meeting with Xi sounded slightly different from Xinhua's version, with a more upbeat tone. Abe said:
Our meeting was held in a very friendly and relaxed atmosphere, and I believe we had a frank and open exchange of views on international affairs, including the North Korea issue, as well as our bilateral relations. At the meeting's close, President Xi stated that the meeting represented a new start for Japan-China relations, and I completely agreed.
Abe particularly pointed out that he had urged China to play "an extremely large role" at this critical juncture in the North Korean issue and said that both sides agreed to hold a Japan-China-South Korea summit meeting "as soon as possible." Neither of those topics was mentioned in Xinhua's report.
Two days later, Abe met with Chinese Premier Li Keqiang on the sidelines of the Association of Southeast Asian Nations (ASEAN) and East Asia Summits (EAS) held in the Philippines.
According to China's foreign ministry, Li proposed to Abe more detailed measures to promote economic ties between the two countries, including strengthening mutual cooperation in economy, trade, and investment, and jointly promoting negotiations on the Regional Comprehensive Economic Partnership (RCEP) and a proposed free trade area agreement among China, Japan, and South Korea.
Li also noted that the China-Japan relations have shown "some positive changes" recently.
As The Diplomat reported earlier, China and Japan have sent each other multiple friendly signals in recent months, as this year marks the 45th anniversary of the normalization of Japan-China relations and next year marks the 40th anniversary of the signing of the China-Japan Treaty of Peace and Friendship.
On September 28, Abe made a surprise appearance at an event marking China's National Day at the Chinese Embassy in Tokyo.  It was the first time in 15 years that a Japanese prime minister had attended such an event. During his remarks at the embassy, Abe also invited Xi to visit Japan. In return, Chinese Foreign Minister Wang Yi immediately met with Yutaka Yokoi, the Japanese ambassador to China, in Beijing, and told Yokoi that China expects more good news from Japan.
It is worth noting that Japan has been actively strengthening security ties with the United States, India, and Australia as well. On the sidelines of the ASEAN summits, senior officials from the United States, Japan, India, and Australia just held a quadrilateral meeting, which many analysts argue is aimed at countering China's influence. It appears that Abe is trying to balance its relations with the two superpowers by promoting economic ties with China and security ties with the United States at the same time.