Abe Vows to Achieve Major Improvement in Sino-Japan Relations in 2018
This year marks the 40th anniversary of a peace and friendship treaty between China and Japan.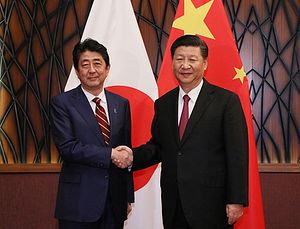 As 2018 marks the 40th anniversary of China and Japan signing their Peace and Friendship Treaty, both countries seem intent on taking advantage of the anniversary to pursue a rapprochement.
On January 5, Japan's Prime Minister Shinzo Abe expressed his strong will to improve relations with China.
At a New Year celebration event organized by Jiji Press in Tokyo, Abe said, "I want to make this year one when people in both countries are able to recognize a major improvement in Sino-Japanese relations," according to Nikkei.
Nikkei also noted that Abe has signaled his "willingness to cooperate on China's Belt and Road infrastructure initiative and seeks to initiate mutual state visits this year by him and Chinese President Xi Jinping."
As The Diplomat has been following, Abe has repeatedly invited Xi to Japan over the several months. Abe made his first public invitation to Xi on September 28, 2017 during a surprise appearance at an event marking China's National Day at the Chinese Embassy in Tokyo. It was the first time in 15 years that a Japanese prime minister had attended the event.
On December 28, 2017, on behalf of Abe, Toshihiro Nikai — secretary general of Japan's Liberal Democratic Party (LDP) —  invited Xi to visit Tokyo again during a meeting together with a Japanese delegation in Beijing.
On December 29, 2017, during an exclusive interview with Nikkei, Yoshihide Suga, Japanese chief cabinet secretary and Abe's "right-hand man," also expressed Japan's goal to improve Sino-Japan relations in 2018. He said:
The new year is expected to provide an excellent opportunity to further improve relations, after recent strides toward better ties. If a trilateral Japan-China-South Korea leaders' summit is held by spring, Prime Minister (Shinzo) Abe visits China and Chinese President Xi Jinping visits Japan, the Sino-Japanese relationship will be on a stable course. We hope to deepen mutual trust through strengthened economic ties and people exchanges.
Meanwhile, China has taken note of the "positive remarks" made by Japanese leaders.
At the regular press briefing on January 8, Chinese Foreign Ministry Spokesperson Lu Kang said that Beijing hopes that "Japan could work with China" and "seize the opportunity presented by the 40th anniversary" to improve mutual relations.
In mid-December, Chinese Foreign Minister Wang Yi had made clear Beijing's stance on Sino-Japan relations during a speech at the Symposium on International Developments and China's Diplomacy in Beijing. He said:
We value the recent steps Japan has taken to improve ties with China and welcome Japan's participation in the Belt and Road Initiative. We hope Japan will not hesitate, backpedal or relapse, and we hope Japan will do more to increase understanding, dispel mistrust and facilitate sound interactions. We will see light at the end of the tunnel as long as we keep moving forward. We are ready to work with Japan to bring the bilateral relations back to normal at an early date and make friendship prevail again in our engagement.
It appears that both Chinese and Japanese leaders are on the same page when it comes to shifting their bilateral relations in a positive direction.