India, Russia Conclude Major Military Exercise
This year's joint Indo-Russian military drill included army, navy, and air force elements for the first time.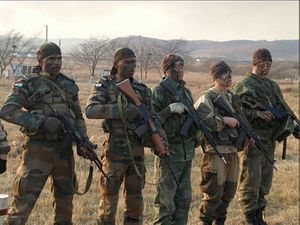 India and Russia "successfully conducted" this year's iteration of the joint Indra military drill held from October 19 to 29 near Vladivostok in Russia, the Indian Ministry of Defense (MoD) said in a November 1 statement.
The bilateral military drill, which took place at training sites near Vladivostok  and in the Sea of Japan, involved over 900 Indian military personnel from the Indian Army, Air Force, and Navy, two IL 76 aircraft, as well as two surface warships. Russia dispatched over 1,000 troops from all three services including warships from the Pacific Fleet and aircraft from Russia's Eastern Military District.
"Army exercise tasks involved check point defense and humanitarian convoy escort in the back drop of threat from armed groups," the Indian MoD stated. "Naval tasks comprised visit, board, search and seizure (…) operations besides force protection measures, joint air defense and anti-mining operations." In addition, the Indian Air Force and Russian Aerospace Force "combined their air crews for combat air patrols, reconnaissance missions, formation flying and slithering operations utilizing Russian fighters, transport aircraft and helicopters."
Su-30M2 fighter jets, An-26 transport planes, and Mi-8AMTSh helicopters were piloted by mixed crews. "For the first time in the history of the Russian aerospace forces, mixed international crews, with Indian second pilots, perform flights onboard Russian aircraft at the Central Uglovaya airfield near Vladivostok (…). All foreign pilots have experience of piloting similar aircraft used by the Indian air force, a Russian Pacific Fleet spokesperson said on October 26.
One of the principal objectives of the exercise was to enhance inter-service cooperation, especially on the Indian side. "It was indeed a historic occasion for two of the world's greatest armed forces to join hands and successfully conduct an exercise of this magnitude with professionalism, providing an opportunity for both defense forces to imbibe the best practices from each other and jointly evolve and practice drills to defeat the scourge of terror," according to the Indian MoD.
"It is even more satisfying that this milestone in Indo-Russia defense cooperation has been realized as we commemorate 70 years of Indo-Russian friendship," the MoD adds. "I do not see any opportunity to equalise relations between Russia and India and Russia and Pakistan. Our partnership with India is second to none. It is a special strategic partnership," Russian Ambassador to India, Nikolay Kudashev said at the conclusion of the Indra exercise, according to Indian media reports.
The hyperbolic language is unsurprising. India remains one of Russia's most important customers of military hardware. Both India and Russia have been trying to downplay recent disagreement over joint defense programs. Among other things, senior Indian defense officials leaked that they want to discontinue work on the co-development and production of the Sukhoi/HAL Fifth Generation Fighter Aircraft (FGFA), known in India as the Perspective Multi-role Fighter (PMF), which would be a major blow to the Russian military aircraft industry.