India, Russia to Kick Off Major Military Exercise This Week
The 2017 joint Indo-Russian military drill will include army, navy, and air force elements for the first time.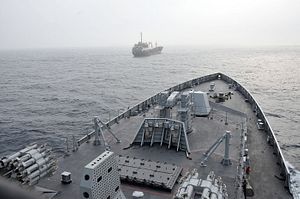 The 2017 iteration of the Indo-Russian Indra bilateral military drill will involve personnel from all three service branches from both Indian and Russia, the Indian Ministry of Defense (MoD) said in an October 16 press statement.
"The year 2017 marks a major milestone as this exercise has been upgraded to involve all the three services of the armed Forces (Army, Navy, & Air Force), which further accentuates the importance of joint services in the present world environment," the statement reads.
According to a spokesperson of the Russian Pacific Fleet, the Russian military will participate in Indra-2017 with naval and air elements of the Russian Pacific Fleet, as well as aviation units and the ground forces of the Eastern Military District.
"Exercise INDRA-2017 will be conducted at the 249th Combined Army Range Sergeevisky and in the Sea of Japan near Vladivostok. The Indian contingent will comprise of 350 personnel from Army, 80 from Air Force, two IL 76 aircraft, and one Frigate and Corvette each from the Navy," the Indian MoD states. "The Russian Federation Armed Forces will be represented by approximately 1000 troops of the 5th Army, Marines and Ships of Pacific Fleet, and aircraft from Eastern Military District."
Since its beginning in 2003, the Indra military drill has alternatively involved Indian and Russian ground and naval forces. In 2016, Indra was held from December 14 to December 21 in the Indian port of Visakhapatnam and the Bay of Bengal. Both countries also conducted a joint counterterrorism exercise under the Indra framework in 2016. "The exercise involved around 500 military personnel from both sides and focused on counterterrorism operations under a United Nations mandate," as I explained.
For India, the major emphasis during the drill will be on enhancing inter-service cooperation and synergizing jointness. As I noted:
The Indian military has been pushing towards better integration of its three service branches based on a warfighting doctrine emphasizing joint operations.

Beyond that, India's military seeks "complete and effective inter-operability" with "countries, big and small" in order to effectively conduct military operations overseas, The Diplomat reported (…) in an article analyzing India's latest Joint Armed Forces Doctrine.
The Indian and Russian defense ministers signed a military cooperation roadmap during the 17th meeting of the Russian-Indian inter-governmental commission for military-technical cooperation in June of this year. The document is meant to be the basic document in planning bilateral military contacts between the two countries. Another potential venue for Indo-Russian military cooperation has been opened up with India's accession to the Shanghai Cooperation Organization earlier this year.