Kyrgyz President Atambayev Set to Hand Successor a Massive Bilateral Headache
The Kazakh-Kyrgyz rift continues to widen as Atambayev's presidency wanes.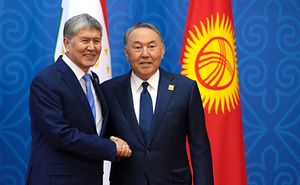 While the spirit of regional cooperation seems to be awakening in Uzbekistan, the Kazakh-Kyrgyz relationship continues to stall out along the border amid accusations and insults. In the latest bit of barbed words, Kyrgyzstan's lame-duck President Almazbek Atambayev complained on November 15 that Kyrgyzstan "has been cut off the Eurasian Economic Union at the whim of Kazakhstan's leadership."
Atambayev referred to the trouble on the border as a "blockage" and, as reported by RFE/RL, "compared it with a time in 2014 when Islam Karimov, then president of neighboring Uzbekistan, ordered the cutoff of natural-gas supplies to Kyrgyzstan." Atambayev's tirade is worth quoting at length:
In spring 2014, at the whim of a similar aged dictator in another neighboring republic, our southern regions were cut off from natural gas. I remember how our political wirepullers, our lawmakers shouted then saying that Atambayev must go and bend to the aged dictator… Some people seem to say that Atambayev must bend his knees in front of the rich neighbor and apologize…. It is not Atambayev but those who impertinently meddle in our affairs who must apologize; those who wanted to put their flunky on the chair of the sovereign Kyrgyzstan's president… Yes, their flunky will sit. However, not on the presidential chair but in a prison cell.
Atambayev may be refusing to apologize to the "aged dictator" to the north, but the status of the border flows directly from Atambayev's own mouth even if it is the Kazakhs who have imposed border restrictions. The potential serious and lasting impact will ultimately fall on the shoulders of Atambayev's successor, Sooronbai Jeenbekov.
The present problems date back to early October in the last days of the presidential campaign. Atambayev accused Kazakhstan of meddling in the election in favor of Jeenbekov's main challenger, Omurbek Babanov. The core accusation was rooted in Babanov's September 19 meeting with Kazakh President Nursultan Nazarbayev in Almaty. (Nevermind that Jeenbekov had last met with Nazarbayev in mid-August just a week before resigning the prime ministership to run, and long after he was identified as Atambayev's chosen successor.)
Atambayev, known for his loose lips, has sunk the Kazakh-Kyrgyz relationship into quite the bog. On October 10, a few days after Atambayev shot off on his Kazakh meddling narrative, Kazakhstan began tightening border controls, resulting in a long lines of trucks — many laden with perishable produce — waiting to cross.
On October 15, Kyrgyz went to the polls and voted in favor of Jeenbekov. Jeenbekov bested Babanov 54.74 percent to 33.49 percent, winning the election in the first round.
While the election was judged relatively free and fair, in the weeks since allegations have arisen that Jeenbekov's campaign gained access to private voter information via a website hosted on a government server. The Kyrgyz government has since said it plans to sue the local media outlet that conducted the investigation and first reported on the server. The accusations cast an additional cloud over the not-even-begun Jeenbekov administration.
Jeenbekov is set for inauguration on December 1.
On January 1, 2018 the Eurasian Economic Union customs code is set to come into effect. Four of the EEU's five members — Armenia, Belarus, Kazakhstan and Russia — have ratified the code. Kyrgyz lawmakers, as Almaz Kumenov reported recently for Eurasianet, haven't even put the code on their agenda. "Still, Kyrgyz approval is broadly considered a formality," Kumenov wrote. Kazakhstan says its concerns are about smuggling and sanitary issues. Astana has banned a list of Kyrgyz goods, and turned back or destroyed truckloads of fruit, fish and dairy products.
To be fair, Kazakh-Kyrgyz border controls have been an issue since Kyrgyzstan acceded to the EEU in 2015. Kazakhstan has been slow to roll back veterinary controls and other mechanisms, saying Kyrgyz checks were not up to standard. Last year, as Kyrgyzstan complained about Kazakh delays during a meeting of the Supreme Eurasian Economic Council and refused at first to sign the customs code treaty. Kazakhstan then promised $100 million in technical aid to help pay for the improvements Astana viewed as necessary.
As a result of the current kerfuffle, however, Bishkek has formally rejected the $100 million in aid. Bruce Pannier called it "an 'own goal' of epic proportions." Then, because Astana couldn't let Bishkek have the last word, Kazakh lawmakers drew up a law to cancel the deal.
How quickly and easily Kazakhstan and Kyrgyzstan's trading relationship has deteriorated casts an additional shadow on the viability of EEU, already critisized for its flimsiness. When the customs code comes into effect it is supposed to streamline the process of cross-border trade between member countries. It's hard to imagine that working on the ground at the Kazakh-Kyrgyz border under present circumstances. Without easy access to Kazakhstan, Kyrgyzstan has a much more difficult time trading with the rest of the union.
One thing is certain: Jeenbekov is inheriting a bilateral crisis that can have serious impact on Kyrgyzstan's economy. A more difficult border means less trade and could also sour Kazakh tourists on heading south.