Russian Warships Arrive in Thailand Amid ASEAN Drills
Two Pacific Fleet ships set to remain for commemorative activities this week.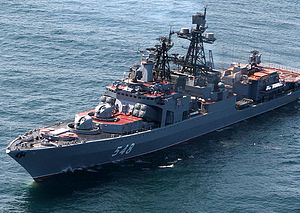 On November 13, Russia's defense ministry confirmed that two Pacific Fleet ships had arrived on an unofficial visit to Thailand. The visit, which follows a stop by the vessels in Cambodia, also comes just as Bangkok is set to host a series of commemorative military activities in conjunction with ASEAN's 50th anniversary.
As I have noted before in these pages, Russia under Vladimir Putin – ambitious abroad and increasingly isolated from the West — has been looking to boost its presence in the Asia-Pacific, including in Southeast Asia, over the past few years. Though there are clear limits to what Moscow can accomplish and some Southeast Asian states have been more receptive than others, the trend itself is unmistakable (See: "Where are Russia-Philippines Defense Relations Under Duterte?").
One of the most visible manifestations of Russian influence in Southeast Asia is its naval presence. And as an example of this, as I noted last week, the Pacific Fleet's ship detachment, comprising the destroyer Admiral Panteleyev and large sea tanker Boris Butoma, was in Cambodia for an unofficial visit (See: "What's Behind the Russian Warship Visit to Cambodia?"). As expected, the arrival of vessels, which had previously made stops in other Southeast Asian countries, including Brunei and the Philippines, saw a number of interactions between the two sides, including the sharing of experiences in counterterrorism and joint anti-piracy drills, before their departure.
On Monday, the Russian defense ministry said that the ships had now moved on to Thailand for an unofficial visit that would last until November 21. That comes as no surprise. As I noted before, Thailand is hosting a number of commemorative military activities as the Association of Southeast Asian Nations (ASEAN) marks its 50th anniversary this year (See: "ASEAN's First Naval Exercise in Perspective"). Among these is the holding of an International Fleet Review (IFR) and associated events in and around Pattaya Bay, which will see participation from 26 vessels from 19 countries, including Russia.
The Russian defense ministry did not disclose much in the way of specifics regarding the visit itself, including bilateral defense interactions. But as I have written previously, Thailand, a U.S. treaty ally is one of the key countries that Russia has been looking to boost defense ties with (See: "What's in the New Russia-Thailand Military Pact?"). The ministry did, however, mention that a number of events would be organized tied to the ships, including visits by Southeast Asian representatives as well as Russian diplomats as is customary in these engagements. The ships are set to remain in Thailand until November 21.