Singapore, Brunei Conclude Military Exercise
Both sides held this year's iteration of their flagship naval exercise.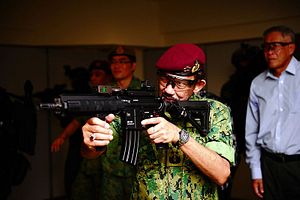 From November 10 to November 13, Singapore and Brunei concluded another iteration of their flagship naval exercise, Exercise Pelican. The interaction put the focus on the bilateral defense relationship between the two Southeast Asian states.
As I have noted before, Singapore and Brunei have a close defense relationship as part of their broader bilateral ties (See: "Where are Singapore-Brunei Defense Ties?"). This is reflected not just in traditional aspects like exchanges, visits, and exercises, but also the fact that the Singapore Armed Forces (SAF) also holds training in Brunei, as it does in several other countries including Australia and the United States (See: "US-Singapore Defense Ties in the Spotlight with Trump-Lee Visit").
The defense relationship has seen some recent gains during the course of the last year, with both sides commemorating their 40th anniversary in 2016. Among other things, as I noted previously, last year both sides inked a memorandum of understanding on defense technology cooperation (DT MOU) which expanded collaboration and provided a framework to work on capabilities programs together in the defense technology domain (See: "Singapore, Brunei Ink New Defense Pact").
One of the longstanding bilateral military interactions between the two sides is Exercise Pelican, which began in 1979 and is meant to help enhance mutual cooperation, understanding, and interoperability between the Republic of Singapore Navy (RSN) and the Royal Brunei Navy (RBN).
This year's exercise featured the RSN's Formidable-class frigate RSS Steadfast as well as the RBN's Darussalam-class Offshore Patrol Vessel KDB Daruttaqwa. According to Singapore's defense ministry (MINDEF), the two navies conducted various engagements, including live gunnery firings, communications and maneuvering exercises in the South China Sea and the Gulf of Thailand. Personnel from both navies also conducted a sea-rider exchange where they visited and sailed on their counterparts' ships.
The closing ceremony of the exercise was held on board RSS Steadfast and was officiated by Commanding Officer of RSS Steadfast Lieutenant Colonel Edwin Chen and Commanding Officer of KDB Daruttaqwa Commander Rasman bin Puteh. Following the exercise, both ships were set to sail together to Pattaya, Thailand for the ASEAN International Fleet Review (IFR).
As I noted last week, three events are set to be held under the broader banner of this International Fleet Review (IFR) to commemorate ASEAN's 50th anniversary: the IFR itself, which will be a review of navy ships invited from across the world; the 11th ANCM; and the 1st ASEAN Multilateral Naval Exercise (AMNEX) (See: "ASEAN's First Naval Exercise in Perspective").