The Trump White House Seeks an Additional $4 Billion for Missile Defense in Fiscal Year 2018
A new budget amendment for the U.S. Department of Defense seeks to up missile defense amid a growing North Korean threat.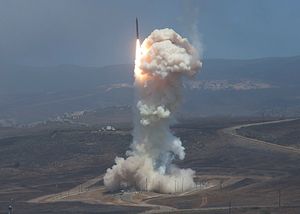 On Monday, the White House notified Congress of 2018 fiscal year budget amendment request for the U.S. Department of Defense.
The request includes an unusual and large request of more than $4 billion for activities related to missile defense. That's more than half of the U.S. Missile Defense Agency's budget request of $7.9 billion to support its ongoing research, development, operations, and testing activities.
The White House's missile defense requests, made under the category of "Emergency Requirements" for the Department of Defense, also include funds that would be used for the repair of the two U.S. 7th Fleet Arleigh Burke-class guided missile destroyers—USS John S. McCain and USS Fitzgerald—that were damaged in collisions with commercial vessels this year.
The guided-missile destroyers provide "additional ballisitc missile defense capabilities in the Asia-Pacific theater," the White House request noted.
The missile defense procurement plans included in the White House's budget amendment are considerable. $2.1 billion of the requested funds would go toward the initial procurement of 20 additional Ground-Based Interceptors to be based at Fort Greely, Alaska, where they would join the U.S. Ground-Based Midcourse Defense (GMD) system.
GMD is the only ballistic missile defense system that the United States possesses today that has a limited capability against intercontinental-range ballistic missile.
The budget amendment also states an intent to procure 16 Standard Missile-3 Block IIA interceptors, which are expected to become operational for the first time in early 2018.
The request additionally seeks the procurement of an additional 50 Terminal High Altitude Area Defense interceptors, which may play a role in the defense of Guam, Hawaii, and southern South Korea against short-, medium-, and intermediate-range ballistic missiles.
North Korea has carried out 20 ballistic missile launches this year, including two new types of ballistic missiles—the Hwasong-12 and Hwasong-14—that are capable of reaching the U.S. territory of Guam and the contiguous United States respectively.
2017 was the first year North Korea tested an intercontinental-range ballistic missile. The Hwasong-14, the only missile in this range category that North Korea has tested to date, was tested on July 4 and July 28.