US Missile Defense Agency Makes $9.9 Billion Fiscal Year 2019 Budget Request, Citing North Korea and Iran
This is the largest nominal budget request from the Missile Defense Agency ever.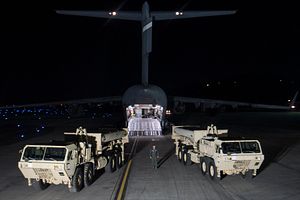 The U.S. Missile Defense Agency has requested $9.9 billion (PDF) in funding for the 2019 fiscal year, citing growing intercontinental-range ballistic missile threats from North Korea and theater ballistic missile threats from Iran. The Agency's request also points to advances in other areas, including hypersonic glide vehicles, which pose a challenge for existing missile defense systems.
"Recent escalation of the threat from North Korea has demonstrated an advanced and accelerated capability," the Agency's request notes. "North Korea is committed to developing a long-range, nuclear-armed missile that is capable of posing a direct threat to the United States."
"Iran is fielding increased numbers of theater ballistic missiles, improving its existing inventory, and is developing technical capabilities to produce an ICBM, and this effort is benefiting from its ballistic missile and space launch vehicle programs," the Agency's request noted. Iran has not tested any missile capable of striking targets at intercontinental ranges, but has launched satellite launch vehicles, which use technology similar to ICBMs.
The request comes after the Trump administration notified Congress of a budget amendment in November 2017, requesting an addition $4 billion for the Agency, also citing North Korea, which had demonstrated its first-ever successful intercontinental-range ballistic missile flight test earlier in the year.
The emergency request, according to the White House, also included allocations for the repair of the two U.S. 7th Fleet Arleigh Burke-class guided missile destroyers that were damaged in fatal collisions last year, USS John S. McCain and USS Fitzgerald.
In nominal terms, the $9.9 billion request for the 2019 fiscal year is the single largest request from the Agency and its predecessor agencies since 1985, when U.S. President Ronald Reagan first established the Strategic Defense Initiative.
The request includes several procurement requests for interceptors for existing systems. The Agency seeks to start the process of upping U.S. ground-based interceptors (GBI), which are part of the Ground-Based Midcourse Defense (GMD) system, from 44 today to 64 by the "2023 timeframe." The Agency also seeks 37 SM-3 Block IB interceptors and six SM-3 Block IIA interceptors.
Testing is set to continue for the Block IIA, which recently saw a failure attributed to the interceptor. The Agency will also conduct a data collection test using the newer Aegis Baseline against a medium-range ballistic missile-class target with countermeasures.
The Agency is also seeking $120.4 million in the upcoming fiscal year to pursue hypersonic defense technologies, to "address and defeat hypersonic threats informed by a set of near-term technology demonstrations." The amount is considerable increase over the $75.3 million requested in fiscal year 2018 and follows China's test of the DF-17 hypersonic glide vehicle-equipped ballistic missile, the first hypersonic glide vehicle-based system intended for operational deployment.
Other items in the Agency's fiscal year 2019 request include sums for new sensors, including the long-range discrimination radar (LRDR) and Pacific discriminating radar. Software upgrades for battle management systems and sensor interfaces are also a priority, including "advanced discrimination algorithms" for the AN/TPY-2 X-Band radar and the sea-based X-band radar.
The Trump administration has made clear its view that missile defense—homeland, theater, and point defense alike—will remain an important component of U.S. defense spending. The U.S. Missile Defense Agency's fiscal year 2019 budget makes this clear.