UN's Futile Effort to Engage Myanmar on the Rohingya Crisis
The United Nations Security Council decides to increase pressure on Myanmar, but it won't have much of an impact.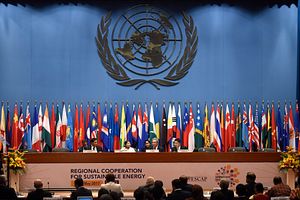 On Monday, the United Nations Security Council turned up the heat on Myanmar by unanimously adopting a presidential statement demanding an end to the brutal campaign against the country's Rohingya Muslim community.
Significantly, the statement is one of the strongest UNSC pronouncement against Myanmar in recent years. Among many other concerns, the statement reiterated demands to halt excessive military force in Rakhine state, guarantee humanitarian access for the UN, ensure the right of return for refugees, and take steps to address the underlying causes of the conflict.
While some diplomats have praised the outcome of the meeting, UNSC members still remain far from a consensus on this matter. The United Kingdom (U.K.) and France initially put forward a Security Council resolution on Myanmar in late October, but China and Russia refused to cooperate, according to diplomats familiar with the negotiations. They only gave their endorsement after the U.K. and France watered down the wording and turned it into a presidential statement, which (unlike a resolution) is not enforceable.
Indeed, Russia and China are often the stumbling blocks forestalling common action in Rakhine. Between the two nations, China is seen as holding much more leverage over Myanmar due to its substantial economic and military ties with the country. But this is also why China sees that it stands to lose a great deal by taking a harsh stance on this crisis. Even now, as atrocities mount in Rakhine, Beijing has chosen to portray itself as non-interventionist, arguing that foreign interference would only aggravate the situation.
China's backing of Myanmar has somewhat emboldened Rakhine leaders who have long opposed the UN's presence in Rakhine. Oo Hla Saw, a lawmaker from the Arakan National Party, shared his views on the UN's latest statement: "I don't see the UN Security Council's statement as anything new," he said. "What I think is that the UN will put pressure on Myanmar in the future, and China will object when it believes that the UN's decisions are too harsh on Myanmar." It won't be easy eliciting cooperation from Rakhine leaders to restore peace in the community if they see UN criticisms as just hollow threats.
Frustrated with the lack of UN progress in resolving the crisis, Western powers have decided to pursue their own channels of diplomacy. For example, the U.K. recently announced that it was cutting off £300,000 ($393,000) in aid to the Myanmar military, which it holds responsible for the security crackdown on Rohingya Muslims. This move came on the heels of a Britain-led ministerial meeting in New York, gathering top officials from Canada, Denmark, Turkey, Australia, Indonesia, Sweden, Bangladesh, the United States, and Europe to discuss solutions to the crisis.
U.S. Secretary of State Rex Tillerson, who has been working behind the scenes to resolve the crisis, will also be meeting with senior Myanmar officials on November 15. Though he expressed intent on finding a diplomatic solution, he threatened that sanctions are also on the table. His stance echoes many other U.S. lawmakers, who are pushing to reinstate sanctions waived by the Obama administration last year.
Such punitive measures would be effective if other foreign actors with leverage over Myanmar's military follow suit. But this is not the case. As Prashanth Parameswaran pointed out in The Diplomat, several Europeans countries are interested in developing an arms trade with Myanmar once the existing arms embargo is lifted. Closer to home, countries such as Japan, India, and Australia have also chosen to maintain cooperation with Myanmar's armed forces. Plus, China and Russia, as mentioned earlier, have little interest in severing ties with Myanmar's military over the persecution of Rohingya Muslims.
To be fair, there are some grounds for enhancing military relations with Myanmar. Japan and India see it as critical to balance an increasingly influential China. On the other hand, developed countries like Australia argue that this would help ensure lines of communications are open in order to engage Myanmar's military on issues related to human rights. But the fact remains that as long as Myanmar retains a bulwark of support, there is little incentive for it to change its behavior.
Lau Seng Yap is a security risk analyst at GlobalMomentum Pte Ltd. He specializes in analyzing geopolitical risks and security threats in the Asia-Pacific region.