US Navy's New Class of Ballistic Missile Subs on Schedule
The per unit cost of the U.S. Navy's new class of nuclear-powered ballistic missile subs has reportedly also fallen.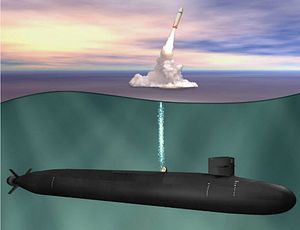 Work on the U.S. Navy's new Columbia-class of ballistic missile submarines (SSBN) remains on track despite an early challenge and program costs are also slated to come down, USNI News reports this week.
The average per unit cost for 12 planned SSBNs has been reduced from $7.3 to $7.21 billion, according to Program Executive Officer for Submarines Rear Admiral Michael Jabaley, who recently spoke at the Naval Submarine League's annual conference.
"Through innovative legislative authority and contracting techniques, we've already reduced cost by $80 million per hull, to bring [average procurement unit cost] APUC down to $7.21 (billion)," Jabaley said.
"So that was a combination of missile tube continuous production … and advance construction, which is pulling key construction activities to the left. Really the focus of that was to reduce the risk of not delivering on time, but it had an added benefit of savings as well."
Among other things, lawmakers established a so-called National Sea-Based Deterrence Fund and created opportunities to save on components shared between other U.S. Navy big-ticket programs, including the Gerald Ford-class and Virginia-class programs. They also permitted the continuous production of missile tubes independent of sub acquisition timelines.
Jabaley says that he intends to further reduce cost. "[W]e have the ability to get the APUC below $7 billion," he said. "That is a stretch goal, but again, as I said, when you understand that the cost of this program is significant, then we really need to do everything we can to buy margin back into the program both in terms of cost and schedule."
As I reported in September, U.S. defense contractor General Dynamics Electric Boat has been awarded a $5.1 billion contract to undertake detailed design work on the new Columbia-class SSBN. The contract award was preceded by the approval of detailed design and engineering work following the program's successfully passing of the so-called Milestone B review in January 2017.
In 2016, I elaborated on the Columbia-class' technical specifications:
(…) [T]he new sub will displace 20,810 tons when submerged — the largest submarine the U.S. Navy has ever constructed — measure 561 feet (171 meters) in length, and have a beam of 43 feet (13 meters). This will make the new class only marginally larger than the Ohio-class with 18,750 tons submerged, 560 feet (170 meters) in lengths, and a beam of 42 feet (13 meters). With a complement of 155, the crew size will also be roughly the same on both ships.
Jabaley also emphasized that a new construction method — the "Quad Pack" construction process — will likely expedite production of the SSBNs. "This process is critical to the ability to build the ship in seven years, 84 months," he said."It is fundamentally different from how we did it on [the Ohio-class SSBNs], and by starting it now, prototyping it early, working all the bugs out, it'll provide significant benefit down the road."
The lead SSBN of the class is still expected to cost around $14 billion, including approximately $5.7 billions in detailed design and nonrecurring engineering costs and $8.8 billion in construction costs. It will remain the U.S. Navy's most expensive SSBN ever built. The new Columbia-class is expected to begin replacing the Ohio-class in 2031.