Zon, Zen, and the Art of Mass Mobilization in Indonesia
Islamists have gained strength thanks to political support from Prabowo Subianto's allies.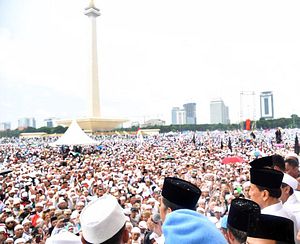 In the struggle between Indonesian President Joko "Jokowi" Widodo and his main rival, former military strongman Prabowo Subianto, two key figures are hardly known outside Indonesia. These are Prabowo's two henchmen, Fadli Zon and Kivlan Zen. While international media has tended to focus on Islamist leaders of recent mass rallies, the real mobilizers have been Zon and Zen.
Fadli Zon is an academic who helped Prabowo found the Gerindra Party in 2007 and now serves as the party's vice chairman. Retired General Kivlan Zen has been a Prabowo ally since at least the early 1980s. He was one of the founders, in 1998, of the Pamswakarsa Islamist militia group, which later morphed into the FPI (Islamic Defenders Front).
If political observers seek to know whether Prabowo is behind a particular protest rally in Indonesia, they need only check whether Zon or Zen were connected with the rally.
A great opportunity was presented to Prabowo in April 2016, when Jokowi and his ally Luhut Panjaitan supported a symposium to hear the grievances of survivors of the massacres of 1965, and then subsequently announced that the government would form a team to excavate mass graves. To some observers, Jokowi and Luhut were showing moral leadership, helping the nation seek the truth about its past, building reconciliation, and ensuring that past excesses would not be repeated. To Prabowo, Jokowi and Luhut were opening themselves up to attack by Islamist groups and other conservatives.
Jokowi was soon on the back foot when Kivlan Zen came together with Islamists to criticise the "reconciliation." They were joined by former Vice President Try Sutrisno, who was traditionally not close to Islamists, and several other leading military figures. Zen won that battle, with Jokowi shifting his close ally Luhut to a lesser ministry and appointing a new coordinating minister for security, retired General Wiranto, who promptly dropped the idea of reconciliation.
Further mobilization of Islamists occurred in November 2016, directed at another Jokowi ally: then-Governor of Jakarta Basuki Purnama (known as Ahok). The Islamists' first rally against Ahok targeted him for being ethnic Chinese and for blaspheming against Islam. It came more than five weeks after Ahok had allegedly committed blasphemy, and only occurred after Fadli Zon announced that he would join the rally. Zen is also said to have been one of the organizers. Only hours before the Islamist's larger December 2, 2016 rally, Zen was arrested by police for allegedly plotting treason against Jokowi. In April 2017, largely due to the large crowds mobilized by Zon and Zen, Ahok lost the Jakarta gubernatorial election to another Prabowo ally, Anies Baswedan.
The Islamists were front and center in the move to oust Ahok, but they couldn't have done it without the political and financial backing of Prabowo. A key Prabowo ally, media tycoon Hary Tanoe, is said to have been the top supporter of the main Islamist group, FPI, through direct aid and through positive publicity given through his TV stations. FPI leaders' praise for praise for Hary Tanoe, even though his Chinese ethnicity and Christian religion were at odds with FPI's use of ethnicity and religion to topple Ahok, suggests they felt dependent on him. In early 2017, as the gubernatorial election approached, Prabowo provided more direct backing to Islamists, criticizing Ahok for "slandering other groups." And as election results were being counted, Prabowo expressed gratitude to the FPI leader for "saving Indonesia's democracy." Before November 2016, FPI had little public support. It was the alliance with Prabowo that allowed FPI to mobilize hundreds of thousands of people.
Since September 2017, Fadli Zon and Kivlan Zen have reappeared in the background as Islamists try to revive communism as a political issue. Kivlan Zen joined Islamists when they attacked Indonesia's Legal Aid office (LBH) in Jakarta on September 18 as LBH hosted a hearing from survivors of the 1965 massacres. And when Islamists rallied outside the national parliament building on September 29, arguing that Jokowi was pressuring Islamists while allowing the re-emergence of communism, Fadli Zon was there to meet them and sympathize. As a member of parliament, he was giving legitimacy to their claims about a revival of communism.
The September 2017 criticism of Jokowi was once again led by Islamists. Prabowo denied supporting the Islamists; however, they needed his backing. They needed Zen's presence when they attacked the LBH office on September 18. The police chief explained that police had difficulty arresting the attackers because they had the backing of certain retired military officials like Kivlan Zen. Fadli Zon not only publicly sympathized with Islamist protesters on September 29 but had also just days earlier fanned fears of communism and spoken out in favor of nationwide showings of Suharto's old 1984 anti-communist propaganda film. The Islamists' attack on the LBH office and their revival of fear of communism would have been less successful without the support of Zen and Zon.
As journalists and activists pore through recently released U.S. government files giving details of U.S. complicity in massacres of alleged communists in Indonesia in 1965, there is pressure on Jokowi to reconcile with survivors of the massacres. And if he does, Zon and Zen will be there waiting for him, ready to once again mobilize Islamists and other conservatives.
Dr. Terry Russell worked as a teacher and aid practitioner in Indonesia for 15 years. He is currently based in Australia, working in the international aid sector (with an organization that has no involvement in Indonesia).