China, Iran to Deepen Military Ties
China's defense minister vowed to strengthen military cooperation with Iran.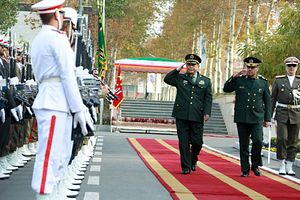 Chinese Defense Minister Chang Wanquan met for talks with the deputy chief of staff of the Armed Forces of the Islamic Republic of Iran, Brigadier General Ghadir Nezamipour, in Beijing on December 12. Chang and Nezamipour vowed to strengthen military cooperation between China and Iran and to maintain friendly military exchanges.
"Under the new circumstances, China-Iran cooperation faces an important opportunity, and China is willing to cooperate with Iran to make new contribution to bilateral ties," Chang said, according to Xinhua news agency.
While in Beijing, Nezamipour also met with Major General Shao Yuanming, deputy chief of the Joint Staff Department of China's Central Military Commission. Shao emphasized that both countries support each other's core interests. He also stressed the importance of deepening the comprehensive strategic partnership between China and Iran.
In November 2016, Chang and his Iranian counterpart, Iranian Defense Minister Hossein Dehghan, signed a military cooperation agreement that entails military-to-military exchanges, joint counterterrorism training, as well as joint military exercises.
This summer, China and Iran held a naval exercise involving two People's Liberation Army Navy (PLAN) destroyers and an Islamic Republic of Iran Navy (NEDAJA) warship in the eastern portion of the Strait of Hormuz and the Sea of Oman. In 2014, for the first time ever, the PLAN and NEDAJA held a joint naval drill in the Persian Gulf.
As I reported previously:
China and Iran maintained close military-to-military contacts throughout the 1980s and 1990s. Among other things, China helped Iran boost its anti-access/area denial (A2/AD) capabilities by selling tactical ballistic and anti-ship cruise missiles (e.g., HY-2 "Silkworm" anti-ship missiles), advanced anti-ship mines, and Houdong fast-attack boats (equipped with anti-ship missiles) to the Islamic Republic.

China also provided technical expertise to Iran by, for example, helping develop Tehran's indigenous Nasr anti-ship cruise missile. "Chinese design and technology can be seen in many Iranian missile series, from the short-range Oghab and Nazeat missiles to the long-range Shahab 3," a 2012 RAND study explains.

Beijing moreover offered assistance to Iran's nuclear program by training Iranian nuclear engineers and helped Iranian master uranium exploration and mining. Between 2000 and 2002, China also delivered a number of C-14 catamaran missile boats, but, as a Jamestown Foundation briefing notes, "the arms relationship essentially ended by 2005."
Any new defense deals will likely only occur following the lifting of the UN arms embargo on the sale of offensive weapons systems in 2020. As I reported in 2015, both countries are in talks over the sale of Chinese-made 150 J-10 multirole military aircraft, next to other military hardware. According to public statements, however, defense sales were not officially discussed during Nezamipour's visit to Beijing this week.