China Launches New Type 054A Guided-Missile Stealth Frigate
The People's Liberation Army Navy's (PLAN) latest guided-missile frigate was launched on December 16.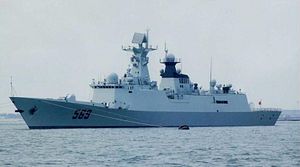 China has launched another 4,000-ton Type 054A Jiangkai II-class guided-missile frigate at the Hudong-Zhonghua Shipyard in Shanghai on December 16, IHS Jane's Defense Weekly reports.  
Neither the name nor the pennant number are publicly known at this stage. Once commissioned, it will be the People's Liberation Army Navy's (PLAN) 29th Type 054A Jiangkai II-class guided-missile frigate in service.
The PLAN currently operates 25 (some sources indicate 26) Type 054A warships with at least four additional vessels of the class under construction. The Type 054A Jiangkai II-class, originally designed to replace older Type 053 frigates, constitutes the bulk of the PLANs surface combatants.
Hudong-Zhonghua Shipyard and Guangzhou Huangpu Shipyard are responsible for the construction of the class. According to a cost estimate published in The Diplomat, the per unit price is estimated at around $348 million.
The first 054A Jiangkai II-class frigate was commissioned in 2005. Beginning in 2009 with the 17th unit, a number of ships of the class were fitted with variable depth sonar and towed array sonar, along with a more powerful close-in weapon system. As I noted before:
 The stealth frigate is armed with HQ-16 medium range air defense missiles and boosts a 32-cell vertical launching system (VLS) in the forward section, capable of firing anti-ship and air defense missiles as well as anti-submarine torpedoes. It also features a Russian-made AK-630 fully automatic naval close in weapon system and a Chinese variant of the AK-176 76 millimeter naval gun.

(…) In addition, the ship is equipped with a Type 382 phased-array radar system and Type 344 and Type 345 multifunctional fire control radar systems, capable of over the horizon targeting.

Type 054A frigates also feature a hangar capable of accommodation Kamov K-27 and Harbin Z-9 helicopters or unmanned aerial vehicles (UAVs).  (…) The ship has a standard range of about 3,800 nautical miles—7,037 kilometers–at a speed of 18 knots, and a maximum un-refueled radius is 12,000 kilometers or 8,000 miles.
Type 054A guided-missile frigates are used for escort and patrol missions in the South China Sea and have been deployed for overseas missions.
According to an analysis, the Type 054A guided-missile frigate features "a limited design in terms of its size, armament, and electronics outfit and is viewed as an intermediary design intended to play a specific, limited role in fleet defense." China is already working on a further derivative of the class.
The lead ship of an improved 5,000-ton variant, the Type 054B or Jiangkai III-class guided-missile frigate, is expected to be commissioned in 2018. Type 054B ships purportedly feature enhanced anti-submarine warfare  capabilities and an all-electric propulsion system, among other improvements. These new ships will likely feature 32 VLS cells and broadly similar armament to the Type 054A class.