Singapore's Intolerance of Dissent in the Spotlight as Police Take on a 'Recalcitrant' Activist
Jolovan Wham's treatment at the hands of Singaporean authorities highlights the PAP's anxieties.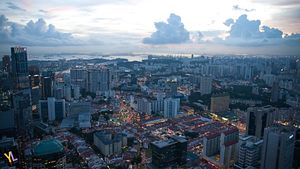 Singapore's intolerance of dissent was put into the spotlight this month when authorities briefly detained a prominent activist for organizing "illegal assemblies."
According to the police, activist Jolovan Wham committed seven offenses for participating in a candle lighting vigil outside a prison complex, organizing a silent protest inside a train, and conducting a forum whose speakers included Hong Kong pro-democracy leader, Joshua Wong, speaking via Skype.
Aside from enforcing strict media laws, Singapore only allows protests in a small corner of a public park. Even a one-person protest act is already considered a public gathering, and is outlawed in all other public areas.
While it is known that the Singapore's police often use various means of intimidation against individuals or groups organizing a public protest, many were still surprised that the police decided to file several charges against an activist known for his peaceful advocacy, especially despite the fact that the peaceful vigil and train protest were held last July and June, respectively, while the indoor forum was in November 2016.
On November 29, the police issued a statement accusing Wham of being a "recalcitrant" who has "repeatedly shown blatant disregard for the law." Wham is alleged to have violated the Public Order Actin addition to committing an offense of vandalism under the Vandalism Act, and refusing to sign his statements under the Penal Code.
Wham's case immediately drew international attention. Online petitions and letters addressed to the Singaporean government were sent by various human rights groups from across the world urging the withdrawal of the charges against Wham. In Malaysia, a solidarity protest was held by civil society groups.
Authorities were mum about their reasons for suddenly deciding to press charges against Wham, but perhaps the intent is to discourage other citizens and even activists from organizing protests that challenge the policies of the People's Action Party, which has ruled the country since the 1960s.
The filing of cases against Wham alarmed human rights groups, since it could set a precedent that could further shrink the space for free expression and assembly in the country.
Writer Kirsten Han, a participant in the candle lighting vigil who was among those initially summoned by the police, rejected the "recalcitrant" tag used by the police against Wham.
"It's highly problematic for the authorities to characterize a citizen's desire to engage peacefully on issues of national, regional and international importance as recalcitrance," Han asserted in an emailed statement.
She added that laws and regulations have to be reviewed if Singapore wants to adhere to international human rights standards.
"When laws are so broad that they go too far in breaching citizens' rights to freedom of expression and assembly, they need to be questioned and scrutinized, so that citizens will still be able to participate peacefully in the important democratic processes of their country."
In a separate interview, Wham also urged the amendment of laws that undermine free speech in Singapore.
Roy Ngerng, a blogger sued by Singapore's prime minister for defamation, noted that the charges against Wham – vandalism, public disturbance, refusing to cooperate with the police – reflected the government tactic of trying to make the public think that activists are being made accountable not because of their politics and protests against state policies, but for their nuisance behavior.
He said that the PAP-led government has always used various threats against critics to instill fear among the public.
"From the outside, Singaporeans seem to be satisfied due to a lack of protests and subsequent persecutions. Singaporeans live in a state of perpetual fear led by their worries and fear of losing their practical livelihoods," Ngerng told this author.
He also warned the international community against praising the Singapore model of governance because it could lead to further human rights abuses.
"By not calling out Singapore, it means that Singapore is emboldened by the relative lack of criticism to be able to keep selling their model."
Both Ngerng and Han believe that political education is needed "to emphasize the importance of democratic action, due process and an active citizenry not just in terms of volunteerism, but also on more institutional and systemic political issues."
Meanwhile, Wham's case is being closely monitored by many because a conviction could inspire the police to pursue other "recalcitrant" activists, especially those who have been consistently demanding political reforms in the PAP-led government. But the overwhelming support received by Wham from various groups and institutions inside and outside of Singapore should also make the government rethink its policies and recent decisions that directly and indirectly suppress contrary voices.
If not, then authorities are only provoking more citizens to perform acts of "recalcitrance," which could broaden into a movement capable of weakening or even dislodging the PAP in the next election.