Tan Kin Lian's Conservative Views Divide Singapore's Anti-PAP Forces
Ahead of Friday's presidential election, anti-establishment voters are struggling with what to make of the "independent" candidate's campaign.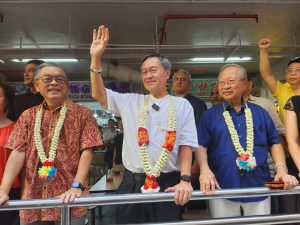 With just a few days remaining in Singapore's presidential race, campaigning efforts have reached their peak for the three candidates.
After an initial nomination period, three of the six aspiring candidates for the largely ceremonial post received the highly coveted certificate of eligibility, allowing them to campaign for the position. While Ng Kok Song, Tharman Shanmugaratnam, and Tan Kin Lian made their way to Nomination Day, three other nominees failed to meet the city-state's stringent eligibility criteria. Among them was businessman George Goh, whom many progressives had hoped would be best able to challenge the ruling People's Action Party (PAP).
The next best available option quickly became Tan Kin Lian, 75, the former head of the insurance company NTUC. Tan, who ran unsuccessfully for the presidency in 2011, has positioned himself as an independent candidate against the establishment represented by Ng and Tharman.
However, it took less than 24 hours for Tan to face his first scandal. A series of his old Facebook posts resurfaced, in which Tan shared photos of women in public spaces, seemingly without their knowledge or consent, repeatedly referring to them as "pretty girls."
Women's rights advocacy group AWARE quickly brought attention to the posts, calling on the Presidential Election Committee (PEC) to review their decision to grant Tan his certificate of eligibility. However, the PEC responded by saying that the certificate was not an endorsement of his posts, as social media screenings are not part of the eligibility assessment. It said that any facts that became public after the issuing of the certificate should be left to voters to consider.
AWARE's statement was further panned in a lengthy Facebook post by Ho Ching, the wife of Prime Minister Lee Hsien Loong, who argued that the organization should have expressed its concerns to the PEC prior to Nomination Day, shifting the burden of background research on candidates to the grassroots organization. Tan denied AWARE's allegations of sexism against him, saying, "I do not objectify women since I have many in my family."
Nonetheless, Tan has faced more backlash as more of his old posts resurfaced, including one from 2015 that included a photo taken inside a bus in Singapore, where most of the passengers were Indian. The candidate captioned the now-deleted post with "I boarded SMRT 857 and found that I was in Mumbai. Hahaha." The comment has garnered considerable criticism, given that Indians represent 8.5 percent of Singapore's population and are one of the three main ethnic groups alongside Chinese and Malays.
He further embraced this rhetoric when talking about his spouse, saying that voters would "prefer a chance to have Singapore-born president and spouse." This was widely understood to be directed against Tharman, whose wife, Jane Yumiko Ittogi, is of mixed Chinese-Japanese ancestry.
Tan's conservative views drew further attention after his appearance on the Yah Lah But podcast, where he was asked about his views on same-sex relationships. "If you want to be a homosexual, do it privately," Tan said, "If you want to do it outwardly, then you actually cause problem with younger people." He has also been repeatedly corrected by the PEC and the media in what the role of president entails, after making public comments comparing the position to that of a monarch, as well as expressing public views on government policy.
In Singapore's parliamentary system, the presidency is a largely ceremonial role, with duties including representing the country in official diplomatic functions, granting pardons, controlling national reserves, and appointing public servants. Nonetheless, many voters have expressed their discomfort with voting for Tan, and have refused to implicitly endorse his racist, sexist, homophobic rhetoric.
In response to the dilemma faced by progressive and anti-establishment voters alike, notable activists including Kirsten Han and Jolovan Wham have made the case for spoiling votes. In an article posted on her online newsletter We The Citizens, Han reminded her readers that "the president's powers are much more circumscribed" than the powers at stake in general elections. She argued that in a "flawed system," a "significant number of invalid votes can also send its own message."
Wham, another Singaporean activist, soon took to Instagram to echo Han's argument. "I've always voted for opposition candidates, whether it's the General Elections or the Presidential one," he said in his post. "This time round, I'm asking myself, what's my limit?" He further outlined Tan's numerous gaffes and problematic statements since the start of the presidential campaign last week, before agreeing with Han that "there is also something to be said about spoiling one's vote" as a protest.
In response to the growing vote spoiling movement, other voices have risen to highlight the potential unintended consequences. In a Facebook post addressing Han's commentary, Sudhir Thomas Vadaketh, co-founder of independent media outlet Jom, expressed his concerns with wasting one's vote in the upcoming ballot.
While acknowledging Han and Wham's decision to spoil their votes, Vadaketh also pointed to the problematic views Tan voiced in his old Facebook posts, warning of the "signaling effects" his election would have on his followers, and pointing to "a risk of misogyny and racism getting much worse in Singapore."
The division between protest voting and spoiling votes has since penetrated much of the Singapore social media sphere, with the debate taking over X, formerly Twitter. "A vote for TKL is dangerous and I hope people aren't considering it," said one X user in response to a growing movement backing Tan as an anti-establishment figure despite his distasteful comments, comparing this movement to the one that supported Donald Trump in the 2016 U.S. presidential election.
"Voting TKL because of strong anti-establishment sentiments is a clear disregard (and silent endorsement) of his blatant racist, misogynistic and homophobic statements," another X user agreed, acknowledging that while choices are limited on this year's ballot, "there is a distinct choice not to make here."
Others have dismissed the analogy that a vote for Tan would prove as dangerous as it did for Trump seven years ago, given that the role of president yields far less power in Singapore than it does in the United States. Some also compared Tan's rhetoric to similar comments by elected Members of Parliament (MPs), arguing that a vote for Tan is no different than a vote for MPs who have expressed similar views.
Despite the limited impact of the presidential ballot, the growing divide that exists around the need for political representation beyond the PAP, particularly in light of recent scandals that have brought into question the party's integrity, foreshadows a difficult road leading up to the next general election, due to be held by November 2025.