South Korea Moves Forward With Plans to Buy 20 More F-35 Stealth Fighter Jets
South Korea's DAPA has purportedly initiated the procurement process for 20 more F-35As.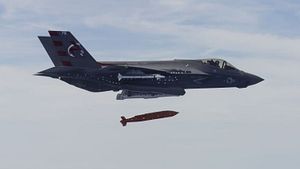 The Republic of Korea Air Force (ROKAF) is moving forward with plans to procure 20 additional fifth-generation Lightning II F-35A stealth fighter jets — the aircraft's conventional takeoff and landing variant — according to multiple South Korean government sources cited by the Joongang Ilbo newspaper, Reuters reports this week.
South Korea's Defense Acquisition Program Administration (DAPA) has purportedly initiated the F-35A acquisition process. The news comes as no surprise to ROK military analysts. The South Korean government has been considering ordering additional F-35A fighter jets for a while to boost the ROKAFs precision strike capability against North Korean missile and command and control targets in the event of full-scale war on the Korean Peninsula.
As I reported in September 2016:
South Korea and the United States signed a so-called Letter of Offer and Acceptance for the purchase of 40 F-35A fighter jets with conventional take-off and landing (CTOL) capability in September 2014. (…) While South Korea reduced the original request from 60 to 40 aircraft, the agreement between the United States and South Korea stipulates that 20 additional F-35A fighter jets can be procured at a later stage depending on the security environment on the Korean peninsula. The ROK Air Force expects to begin deploying the first F-35As in 2018 with all 40 aircraft slated for delivery by 2021.
Furthermore, I noted:
Lockheed Martin, the aircraft maker producing the F-35 series, won the $7 billion defense deal by promising to provide 25 technologies associated with the F-35 to help kick start South Korea's KF-X fighter aircraft program. The objective of the $15 billion KF-X fighter program is to build 120 stealth fighter jets for the ROK Air Force and another 80 for the Indonesia Air Force (TNI-AU) between 2025 and 2030. However, the United States refused to share four (active electronically scanned radar, the infrared search-and-rescue systems, the electro-optical targeting pod and the radio frequency jammer) out of the 25 technologies. Some analysts speculated that the Pentagon's decision not to share the four sensitive technologies could lead to the cancellation of the entire F-35A contract.
The ROK government has so far not publicly commented on the F-35A follow-up order. A I reported previously (See: "South Korea: Upgraded F-16s Capable of Striking Key North Korean Targets"), in order to boost its offensive and precision-strike capabilities the ROKAF is currently modernizing 134 out of its fleet of 170 KF-16C/D Block 50/52 fighter jets, including retrofitting the aircraft with new weapons systems.