US Air Force Test Fires New Long-Range Anti-Ship Missile
The two missiles successfully hit maritime targets off the California coast.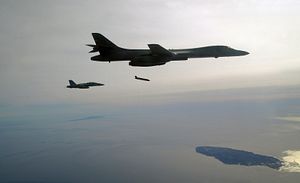 The U.S. Air Force and U.S. defense contractor Lockheed Martin successfully test fired two Long-Range Anti-Ship Missiles (LRASM) from a B-1B Lancer long-range strategic bomber over Point Mugu Sea Range in California on December 12.
"During the test over the Sea Range at Point Mugu, California, B-1B aircrew simultaneously launched two LRASMs against multiple maritime targets, meeting the primary test objectives, including target impact," a Lockheed Martin press release states.
The LRASM is a next-generation anti-ship missile with standoff capabilities, designed to detect and destroy specific targets within groups of surface warships.
"This continued success with LRASM provides confidence in its upcoming early operational capability milestone, putting a proven, unmatched munition into the U.S. Navy and U.S. Air Force inventories," said David Helsel, LRASM program director at Lockheed Martin Missiles and Fire Control.
As I explained in August:
The LRASM began as a joint research project by the Defense Advanced Research Projects Agency (DARPA) and the U.S. Navy in 2009. The aim of the LRASM project was to deliver a new generation of anti-ship missiles with standoff capabilities — in other words, missiles with extended range, which would enable ships and aircraft to launch the weapon without being exposed to enemy counter fire. According to Lockheed Martin, the subsonic LRASM has an estimated range of over 320 kilometers and is fitted with a 450-kilogram penetrator and blast fragmentation warhead.
The LRASMs design is based on the Joint Air-to-Surface Standoff Missile – Extended Range (JASSM-ER), a long-range cruise missile with more than two-and-a-half times the operational range of the baseline JASSM with an estimated range of up 1,000 kilometers (620 miles).
Lockheed Martin was officially awarded a contract for the production of 23 air-launched LRASM, officially designated AGM-158C, in July 2017.  The LRASM will be integrated on the U.S. Air Force fleet of B-1B Lancers and F/A-18E/F Super Hornets. "The air-launched variant provides an early operational capability for the U.S. Navy's offensive anti-surface warfare Increment I requirement to be integrated onboard the U.S. Air Force's B-1B in 2018 and on the U.S. Navy's F/A-18E/F in 2019," according to a Lockheed Martin statement.
As such, the LRASM is part of the U.S. Navy's 'Distributed Lethality' concept of operations, as I explained previously:
[A]s the U.S. Navy surface fleet is slowly implementing this new warfighting concept it still lacks a long-range, anti-surface missile (See: "The US Navy's New Surface Warfare Strategy: 'Distributed Lethality'"). The LRASM is slated to complement two other anti-ship missiles, the RGM-84D Harpoon Block 1C and the fifth-generation over-the-horizon Kongsberg Naval Strike Missile (NSM).
Lockheed Martin conducted the first free flight launch of the LRASM in August.