Long-Range Anti-Ship Missile Reaches Early Operational Capability on US B-1B Bomber
U.S. defense contractor Lockheed Martin has delivered the first set of Long-Range Anti-Ship Missiles to the U.S. Air Force.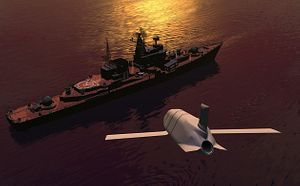 U.S. defense company Lockheed Martin has delivered its first batch of Long-Range Anti-Ship Missiles (LRASM) to U.S. Air Force B-1B Lancer long-range strategic bomber units following the achievement of early operational capability (EOC) of the new weapon system, the company said in a December 18 statement.
"After successfully completing the required integration, flight testing and modeling and simulation, warfighters accepted the first of many tactical production units, meeting key criteria for the EOC declaration milestone," the statement reads. The LRASM is cleared now to launch from B-1B bombers. "The air-launched variant, integrated onboard the U.S. Air Force's B-1B, provides an early operational capability meeting the offensive anti-surface warfare Increment I requirement."
The U.S. Air Force and Lockheed Martin last successfully test fired two production configuration LRASMs from a B-1B over Point Mugu Sea Range in California in May. A previous test launch of an LRASM, officially designated AGM-158C, took place in March 2018. Prior to that, the last test occurred in December 2017, which involved two LRASMs fired from a B-1B hitting a moving naval target.
The LRASM is a next-generation, precision-guided anti-ship missile with standoff capabilities, designed to detect and destroy specific targets within groups of surface warships in electronic warfare environments. "LRASM is designed to detect and destroy specific targets within groups of ships by employing advanced technologies that reduce dependence on intelligence, surveillance and reconnaissance platforms, network links and GPS navigation in contested environments," according to Lockheed Martin. "LRASM will play a significant role in ensuring military access to operate in open ocean/blue waters, owing to its enhanced ability to discriminate and conduct tactical engagements from extended ranges."
The weapon is based on of the Joint Air-to-Surface Standoff Missile – Extended Range (JASSM-ER), a long-range cruise missile with an estimated range of up 1,000 kilometers (620 miles). As I explained in August 2017:
The LRASM began as a joint research project by the Defense Advanced Research Projects Agency (DARPA) and the U.S. Navy in 2009. The aim of the LRASM project was to deliver a new generation of anti-ship missiles with standoff capabilities — in other words, missiles with extended range, which would enable ships and aircraft to launch the weapon without being exposed to enemy counter fire. According to Lockheed Martin, the subsonic LRASM has an estimated range of over 320 kilometers and is fitted with a 450-kilogram penetrator and blast fragmentation warhead.
The LRASM is part of the U.S. Navy's "Distributed Lethality" concept of operations and is expected to complement two other anti-ship missiles, the RGM-84D Harpoon Block 1C and the fifth-generation over-the-horizon Kongsberg Naval Strike Missile (NSM).
LRASM is on schedule to achieve EOC on the U.S. Navy's F/A-18E/F Super Hornet in 2019.