Report: US Navy Destroyer Accidents to Temporarily Reduce Aegis Missile Defense Capacity
Accidents involving two Arleigh Burke-class destroyers in 2017 will have serious consequences.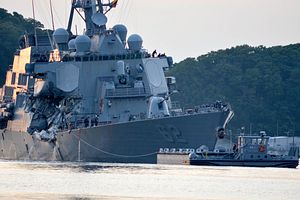 Accidents involving two U.S. Navy Arleigh Burke-class guided missile destroyers assigned to the U.S. Pacific Fleet this year may leave the United States' theater ballistic missile defense (BMD) capabilities with significant shortages, a new report by the nonpartisan Congressional Research Service finds.
The report, published earlier this month, notes that the two damaged vessels, which are ordinarily homeported in Japan, will be "likely be nonoperational for a period of at least several months, and perhaps a year or more, until repairs on the ships are completed."
Earlier this year, both the USS John S. McCain and USS Fitzgerald suffered navigational accidents off the coasts of Singapore and Japan that damaged both vessels extensively and resulted in the deaths of sailors.
"The temporary loss of these two BMD-capable ships reinforced, at the margin, concerns among some observers about required numbers of BMD-capable Aegis ships versus available numbers of BMD-capable Aegis ships, particularly for performing BMD operations in the Western Pacific," the report notes.
Aegis BMD system-equipped vessels use a range of interceptor missiles, including the Standard Missile-3 (SM-3) Block IA/B, the Standard Missile-2 (SM-2) Block IV, and the Standard Missile-6 (SM-6).
A new interceptor co-developed with Japan, the SM-3 Block IIA, is capable of exoatmospheric interception of short-, medium-, and intermediate-range ballistic missiles and was originally scheduled for procurement into the U.S. Navy's inventory in fiscal year 2018, but now will likely be procured in fiscal year 2019 instead.
According to the U.S. Missile Defense Agency's budget submission for fiscal year 2018, which was recently signed into law by U.S. President Donald J. Trump, six SM-3 Block IIA interceptors will be procured in fiscal year 2019, leaving 2018 inventories at zero.
The delay will result in the U.S. Missile Defense Agency channeling research and development funding into other initiatives, including the Ground-based Midcourse Defense (GMD) system — the only system with a capacity to defend the U.S. homeland from intercontinental-range ballistic missiles.
Interest in the GMD system has spiked this year as North Korea carried out three successful flight tests of two different intercontinental-range ballistic missile designs, the Hwasong-14 and the Hwasong-15.
In November, the White House submitted a 2018 budget amendment request to supply the Department of Defense with an additional $4 billion for activities related to homeland missile defense.
That request also included funds to support the repair of the USS John S. McCain and USS Fitzgerald.