US-Philippines Coast Guard Cooperation in the Spotlight with Coast Watch Center Visit
A key facility in maritime security collaboration was in the headlines again this week.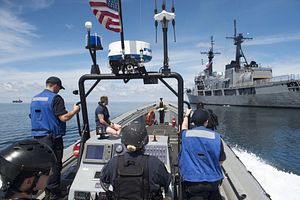 This week, a key coast guard facility in the Philippines was in the headlines due to the visit of a U.S. coast guard official. The interaction put the spotlight on a facility that continues to play an important role within wider U.S.-Philippine defense cooperation in the maritime security space as the two treaty allies continue to build out their ties under Presidents Rodrigo Duterte and Donald Trump.
Coast guard cooperation has been an important area of defense collaboration between the United States and the Philippines – both bilaterally as well as minilaterally and multilaterally as well – even though the Philippine Coast Guard (PCG) continues to face capacity challenges that remain significant as I have detailed previously (See: "Where is the Philippines Coast Guard in its Military Modernization?").
One of the tangible illustrations of that collaboration is the Philippines is the National Coast Watch Center (NCWC). The NCWC, which was designed with U.S. assistance and officially opened in 2015, was intended to eventually function as the interagency hub for the country's maritime domain awareness – centralized around a National Coast Watch System – as well as a node within the broader context of wider U.S. regional maritime security cooperation (See: "America's New Maritime Security Initiative for Southeast Asia").
Though the scope of that cooperation is often viewed narrowly as being just about the South China Sea, it is in fact quite wide-ranging and includes everything from combating illegal fishing up to stopping the proliferation of weapons of mass destruction (WMD). And while officials would admit that the NCWC remains very much a work in progress, its importance is clear particularly within the context of the wide range of maritime challenges the Philippines confronts, the enduring challenge of coordinating responses across various agencies, and Manila's wider role within the Trump administration's thinking in the maritime security space in the Indo-Pacific region (See: "Trump's Indo-Pacific Strategy Challenge").
On December 8, in an illustration of the NCWC's continued importance within U.S.-Philippine defense cooperation, Unites States Coast Guard (USCG) Liaison to US Pacific Command USCG Captain Sherman Lacey visited the facility. The Philippine government said Lacey's visit included several interactions including meetings with PCG officials as well as a tour of PCG facilities, including the 5th Parola-class multi-role response vessel BRP Suluan (MRRV-4406).
During the visit, both sides discussed ongoing developments with respect to the PCG and the NCWC and also contemplated future opportunities for coast guard cooperation between the two countries. Though there were unsurprisingly no further official details released on the content of those discussions, it was a reminder that the NCWC and coast guard cooperation remains an important aspect in the ongoing development of U.S.-Philippine security ties.