We Don't Have a Korean Peninsula Denuclearization 'Breakthrough' Just Yet
North Korea has to say what it's willing to do. It's not enough for South Korea to speak on Pyongyang's behalf.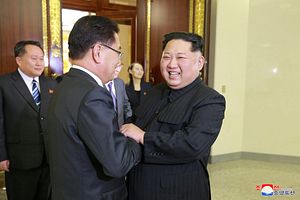 There's something that doesn't sit quite right about South Korea's six-point release and Tuesday's press conference on the achievements of the latest round of inter-Korean talks in Pyongyang. (You can read the statement and translation here.)
The international media have been off to the races with the South Korean announcement—on behalf of the Kim Jong-un regime—that denuclearization is on the table and Kim is even willing to tolerate the non-interruption of the scheduled U.S.-South Korea Foal Eagle/Key Resolve exercises. On top of this, North Korea has reportedly also expressed a willingness to voluntarily freeze its missile and nuclear testing—without any sanctions relief in return.
Given where we were sitting just weeks ago, with talks of "bloody noses," and even a few months ago, with U.S. President Donald Trump's threats to totally destroy North Korea before the UN, it's understandable that some analysts have seized on this as an inter-Korean breakthrough. Unfortunately, a day after the initial South Korean announcements, it appears as if Moon Jae-in's envoys may have been quick to over-promise on behalf of the North Koreans.
First of all, it bears saying that core of the North Korean denuclearization offer—that it would have "candid talks" with the U.S. over its nuclear weapons as long as the country's security is guaranteed—is not new. In fact, the day after Kim Jong-un oversaw the first-ever successful flight-test of the new Hwasong-14 intercontinental-range ballistic missile last year, he was quoted in North Korea's Korean Central News Agency as saying that his country "would neither put its nukes and ballistic rockets on the table of negotiations in any case nor flinch even an inch from the road of bolstering the nuclear force chosen by itself unless the US hostile policy and nuclear threat to the DPRK are definitely terminated."
The denuclearization offer, as paraphrased by Chung Eui-yong, the chief of South Korea's National Security Office, mirrors that basic North Korean offer, which has been on the table for years. It's the centerpiece of Kim Jong-un's longer term plan to wedge and decouple the United States and South Korea.
Where precisely the "hostile policy" begins and ends is up for debate, but it's difficult for me to imagine a scenario where it doesn't include the pullback of U.S. extended deterrence assurances to Seoul and, most likely, the complete withdrawal of forward-based U.S. troops on South Korean soil. A more maximalist reading of the "hostile policy" may even include U.S. forces in Japan and, if an editorial in Rodong Sinmun published after the South Korean statement is to be taken at face value, the denuclearization of the United States!
What's striking so far is that North Korea simply hasn't authoritatively restated or corroborated the majority of what Chung announced on Tuesday to so much global fanfare. North Korean state media has extensively reported on the inter-Korean meetings, but has not clearly stated Kim Jong-un's intention to enter exploratory talks with both his nuclear weapons and the United States' "hostile policy" on the table. An inter-Korean joint statement after the latest round of talks in Pyongyang could have obviated some of this uncertainty about where Pyongyang stands.
This puts the Moon administration in an unenviable position, with its word being the only real source of optimism right now that some talks can go forward. If North Korea ultimately reneges, Moon is left embarrassed, facing an irascible ally disinterested fundamentally in engagement without precondition and committed to "maximum pressure."
If this all sounds somewhat pessimistic—and it is—it's not because South Korea necessarily made the wrong call in accepting Kim Jong-un's New Year's Day olive branch. The talks have reduced the temperature considerably and put Seoul in the driver's seat on the Peninsula, positioning Moon as the prime mover between Washington and Pyongyang.
Moon, too, has been measured in his approach toward Kim Jong-un, winning important concessions like a change in venue for the upcoming third inter-Korean summit to Panmunjeom from Pyongyang (the first two summits both took place in the North Korean capital). Moon was not dealt a particularly strong hand coming into 2018, but has played it as well as possible. If he's left in a difficult position, it will be because of a lack of good faith from North Korea.
Either way, we're still just a day out from the historic inter-Korean meeting in Pyongyang. North Korea could be honing a message that may be released in the coming days to clarify its positions. I'd be surprised if North Korea fully corroborates each and every assurance included in South Korea's statement and press conference on Tuesday, but so far, Pyongyang is keeping quiet.
If it does corroborate South Korea's version of what it is willing to do—even partly—then the ball falls into Washington's court. Turning down an open-ended offer to enter talks, as long as North Korea hews to its moratorium on testing, would be a foolish move for this administration. Far too many U.S. administrations have allowed the perfect to become the enemy of the good on the Korean Peninsula.
With North Korea having demonstrated the capabilities that it has, the Trump administration should be ready to come to the table with a tenable starting point for talks to cap the country's fissile material production and nuclear delivery method growth as a first step. For now, however, there's little evidence that this administration is interested in serious talks.