China Signaling it May Finally 'Militarize' the South China Sea Officially
Response to U.S. warship reveals pretext for deployments to Spratly Islands bases.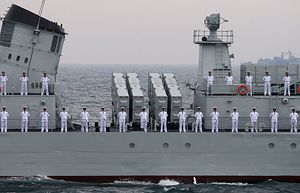 China may be getting ready to overtly "militarize" its island bases in the South China Sea. After years of counter-accusing the United States of militarizing the region while maintaining that its man-made islands were "necessary defense facilities," Chinese officials are using a recent transit by a U.S. warship to lay the groundwork for deploying real force projection capabilities to its outposts.
China's Ministry of Foreign Affairs claimed that a U.S. Navy destroyer violated its sovereignty over the Scarborough Shoal by sailing within 12 nautical miles of the disputed feature in the South China Sea on January 17th. In an unusual step, China was the first to reveal that the transit occurred and may be using it to signal future military deployments to the bases it has built on reclaimed islands in the Spratly Islands.
Lu Kang, a spokesman for China's Ministry of Foreign Affairs said the U.S. ship's passage gravely threatened the safety of Chinese vessels and personnel in the area, but did not elaborate how. He went on to say that China would take "necessary measures" to safeguard its sovereignty.
The Scarborough Shoal is claimed by both China and the Philippines. Starting in 2012, China effectively occupied the shoal, using maritime law enforcement and paramilitary Maritime Militia vessels to evict Filipino fishermen. In early 2016 the United States apparently believed that China might attempt to begin land reclamation at Scarborough Shoal as a prelude to constructing military facilities similar to what it has done in the Spratly Islands, prompting the head of the U.S. Navy to voice rare public concern over China's impending moves. Analysts from the Center for Strategic and International Studies speculated that China's intended reclamation efforts were only stymied following intense behind-the-scenes diplomacy and deterrent signaling.
Since there are no structures on Scarborough Shoal to support the deployment of military equipment, unless China again tries to build an artificial island on the shoal those "necessary measures" probably just mean a heavier Chinese maritime presence in the area. But other Chinese commentary points to the possibility that China may use the Hopper's transit as pretext for militarization elsewhere in the South China Sea.
Militarization is a sensitive topic in the strategic waters of the South China Sea. To quell concern about its robust island-construction campaign, China's President Xi Jinping said that China "did not intend" to militarize the Spratly Islands in 2015 remarks at the White House. Those reclaimed islands are now home to extensive communications and sensor facilities, long runways, and hardened hangars and ammunition storage bunkers. Chinese officials have long explained away this construction as "necessary defense facilities" but not militarization.
As early as 2016, U.S. intelligence assessed that China's Spratlys bases could, or could shortly, host forces like fighters, bombers, and long range anti-ship or land-attack missiles that were capable of projecting power far beyond any defensive requirements. But to date, China has only deployed short-range missiles and point-defense weapons that cannot project control over the seas or skies around the islands, allowing Chinese officials to sustain a thinly plausible claim to be staying within President Xi's promise that China would not militarize them. But Chinese officials now appear to be laying the narrative foundation to claim that the strategic situation in the South China Sea will force China to deploy the more robust military capabilities those Spratlys bases can accommodate.
Chinese officials have floated the premise that the United States was forcing it to deploy increasing military capabilities to the region for defensive purposes before. In 2016, a Ministry of National Defense spokesman invoked this explanation when he responded to a U.S. think tank report revealing new defensive weapons on China's Spratlys bases by saying that "If somebody is flexing their muscles on your doorstep, can't you at least get a slingshot?"
China's recent statements signal that deployments could be more imminent.
Following the Ministry of Foreign Affairs' comments, the official People's Daily newspaper published an editorial saying that the U.S. presence in the South China Sea would "hit a brick wall." It went on to warn that the United States activities would force China to "strengthen and speed up" its buildup of capabilities in the South China Sea to ensure peace and stability in the region. An editorial in the Global Times tabloid claimed even more explicitly that China had exercised restraint in its responses to the United States' military presence in the South China Sea and that eventually China would "militarize the islands."
Claims that U.S. freedom of navigation represents a threat to its islands is more plausibly pretext for militarization. The United States excels at over-the-horizon strike, using long range missiles to hit targets from beyond ranges that they would be subject to easy counterattack. If the United States was going to attack China's built-up facilities in the South China Sea, there is little reason that its warships or bombers would close within visual range of the islands to do so.
It is doubtful, then, that the Hopper's transit had any effect on China's plans. China has been building up its islands' capabilities for some time, with deployments perhaps restrained only by a desire to mitigate backlash from the United States and other countries in the region. It's also possible that the United States' 2016 assessments were optimistic about the islands' readiness to accommodate sustained deployments.
The Asia Maritime Transparency Initiative recently released a report revealing China completed over 70 acres of new construction and facility improvement on its bases in the South China Sea, last year. That construction provides some context to recent reports from Chinese official media about the special facilities and preparations required to support a deployment of fighter jets to the Paracel islands last year. Details on the special accommodations the Chinese military had to make for the tropical conditions in the South China Sea like sealed, thermostabilized airplane hangars, suggests that its bases in the Spratlys are only now reaching a level of completion that can confidently support advanced combat forces, and all China needs now is an excuse to justify the deployments.