Manila's Disappointing Reaction to the US FONOP Near Scarborough Shoal
If claimant states no longer care about freedom of navigation, the U.S. task in the South China Sea may be impossible.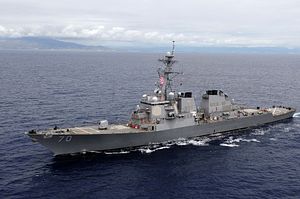 It finally happened last week: the U.S. Navy conducted a freedom of navigation operation (FONOP) within the vicinity of Scarborough Shoal, the South China Sea feature Beijing seized from Manila in 2012 and holds to this day. China publicized the operation days after it occurred.
The operation was the first of its kind involving a surface ship, the first FONOP in 2018, and, keeping in line with previous FONOPs, did not seek to make any statement on the sovereignty of Scarborough Shoal. (The United States tested Chinese control of Scarborough with aerial assets in the past.) Instead, USS Hopper, a U.S. Navy Arleigh Burke-class guided missile destroyer, sought to protest China's prior notification requirements for innocent passage.
That the operation took place near Scarborough Shoal, however, had other implications. Notably, it offered an opportunity for an ambivalent Philippine administration under President Rodrigo Duterte to once again make clear its position on Manila's South China Sea claims. Notably, this was the first significant opportunity of its kind outside of the ambit of an Association of Southeast Asian Nations summit or meeting — Manila chaired ASEAN last year and did not push the envelope with Beijing.
Under Duterte, the Philippines has pursued rapprochement with Beijing at the expense of its traditional closeness to the United States, its treaty-bound ally. After winning a highly favorable award by the Hague-based tribunal at the Permanent Court of Arbitration in 2016 concerning its maritime entitlements in the South China Sea, Manila largely turned its back on international law.
In a disappointing but unsurprising development, this did not change after the Hopper's FONOP near Scarborough Shoal. While Philippine Defense Secretary Delfin Lorenzana defended the operation on the basis of innocent passage, noting that "international law allows innocent passage even in territorial waters," Malacañang Palace was less enthused.
"That is America's problem because for our part, we have different tactics in dealing with China," said a translated statement released by Philippine Presidential Spokesperson Harry Roque to radio DZMM reported by ABS-CBN News. "We have reached a point where we have independent foreign relations, and a problem of America is no longer a problem of the Philippines."
Lorenzana's reassuring support for innocent passage only goes so far; the Philippine presidential office's disinterest in freedom of navigation and international law writ large is a blow to Manila's hard-won victory in the South China Sea in 2016. If regional states like the Philippines, which used to be one of the most forward-leaning claimant states in the South China Sea, cease to care about a rules-based order in East Asia, it'll be considerably more difficult for the United States to shore up support for these principles.