Philippine President Rodrigo Duterte Meets Xi Jinping: First Takeaways
Rodrigo Duterte's first meeting with his Chinese counterpart suggests bilateral rapprochement on a range of issues.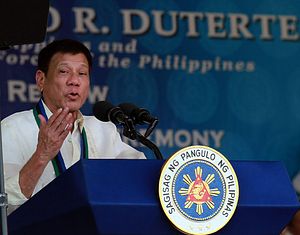 Rodrigo Duterte is currently in China for his first visit outside of Southeast Asia as the president of the Philippines. On Thursday, Duterte met with Chinese leaders, including Xi Jinping, in a highly anticipated meeting that came after months of anti-American posturing, including overt remarks that the Philippine president would look shift regional alignments away from its old ally and toward China.
Instead of softening his approach, Duterte doubled down — at least rhetorically — while in China, where he said that it was "time to say goodbye" to the United States. Invoking U.S. colonial-era atrocities in the Philippines, Duterte remarked that China "has never invaded a piece of my country all these generations." "During the Cold War, China was portrayed as the bad guy," he added. "And all of these years, what we have read in our books in school were all propaganda produced by the West." Punctuating his invective against the United States, Duterte repeated an epithet (putang ina) against U.S. President Barack Obama that first made headlines in September, before the Association of Southeast Asian Nations (ASEAN) Summit in Vientiane, Laos.
In the wake of these remarks, when Duterte met with Xi, things appear to have gone quite well. The Chinese foreign ministry, in a readout of the outcomes of that meeting, noted that Xi and Duterte met in "an amicable and candid atmosphere." Hua Chunying, a spokesperson for the Chinese foreign ministry, added that the two leaders witnessed the signing of "13 bilateral cooperation documents covering economy and trade, investment, industrial capacity, agriculture, media, quality inspection, tourism, drug control, finance, coast guard and infrastructure."
As of this writing, neither China nor the Philippines have released public details of the contour of these agreements. However, the range of agreements, even if they were fairly shallow, suggests that talks were comprehensive, running the entire gamut of bilateral issues instead of being bogged down by differences between the two countries over the South China Sea. Duterte, in his speech before meeting with Xi, had explicitly called on China to extend an economic helping hand: "If China would find in its heart to help us in our needs then we will remember it for all time," he said.
In addition to the 13 bilateral agreements that were signed, the Chinese foreign ministry statement included a range of promising incentives for continued bilateral engagement between the two countries. Hua, in her statement on the Xi-Duterte meeting, noted a range of possible areas of cooperation, including the Philippines joining China's cornerstone 'One Belt, One Road' framework, Beijing investment in Filipino infrastructure, plans for expanded trade and investment collaboration, and cooperation on agriculture and poverty.
The Chinese foreign ministry even noted that "China supports efforts taken by the new Philippine government to crack down on drugs, terrorism and crimes," sharply diverging with Western rhetoric condemning human rights violations. (Duterte responded with a sharp insult after the European Union condemned the proliferation of extrajudicial killings in the Philippines' ongoing drug war.)
Duterte's rhetoric on the United States while in China represents continuity with much of what he has told various audiences in the Philippines. Having threatened to end joint patrols in the South China Sea and annual bilateral exercise with Washington, Duterte looked to forge inroads with China over the South China Sea.
Relations between the two countries had remained frosty under his predecessor Benigno Aquino III following a 2012 stand-off at Scarborough Shoal. China seized the shoal then, leading the Aquino administration to file a case with a five-judge tribunal at the Permanent Court of Arbitration. In July 2016, the tribunal ruled heavily in Manila's favor on the South China Sea, invalidating China's capacious territorial claims there, but Duterte has been reluctant to leverage the award against Beijing, preferring to solicit trade and investment from China.
In the four months since the South China Sea award, China has continued to restrict access by Philippines fishermen to Scarborough Shoal, maintaining a constant presence of maritime law enforcement vessels in the vicinity of the feature. That may change as a result of newly announced formal bilateral talks over the South China Sea, announced after Duterte's meeting with Xi. The Chinese foreign ministry noted that "discussed fishery cooperation in the South China Sea including bilateral cooperation on fishing industry," suggesting the contours of an eventual bilateral understanding over Scarborough Shoal representing something like the status quo before 2012, when both Chinese and Filipino fishermen could access the nearby waters.
While the Philippines foreign ministry has yet to offer its readout of what was discussed on the South China Sea, it's notable that the Chinese foreign ministry's statement does not include any mention of multilateralism, international law, or the July 2016 award, which Beijing regards as invalid. Hua noted that China and the Philippines should follow the "successful practice" of addressing the disputes "through bilateral dialogue and consultation."
Duterte will wrap up his China visit on Friday, when he will address increasing private sector ties between the two countries and the ongoing drug war in the Philippines. Around 200 business leaders are accompanying the Philippine president on his trip to China.