The Death of Shanghai's Iconic Independent Bookstore
The authorities didn't allow the bookstore to go gentle into that last good night.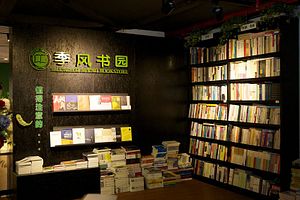 Jifeng Bookstore, founded in 1997 by Yan Bofei, a former philosophy researcherat the Shanghai Academy of Social Sciences, is the best known independent bookstore in Shanghai, China. The bookstore is particularly famous for its open-minded selection of books and frequently hosted talks given by respected Chinese intellectuals.
Yan said he named the bookstore Jifeng — which means monsoon in Chinese —  because the seasonal prevailing wind, changing according to the climate in an endless way, resembles the fate of modern China.
It seems the political climate has changed again in China, and this time Jifeng will not survive the shift. Due to pressure from city authorities, the 20-year-old bookstore has to be closed down by the end of this month.
In early 2017, Jifeng's landlord — the Shanghai Library, run by the city government — notified the bookstore that its lease couldn't be extended because "the city government has tightened regulations on the use of state-owned property."
"But the notification didn't leave us in despair," Yu Miao, Jifeng's current manager, wrote in an article for the bookstore's official website. "With tenacious will and wishful thinking, we visited almost every district of Shanghai to look for new places."
However, whenever a new location decided to invite Jifeng to open the bookstore there, that site's landlord would receive a warning or notification from the government.
"I finally realized that Jifeng can't get a foothold in such a big Shanghai," Yu wrote.
Shanghai's authorities — albeit traditionally conservative and cautious— haven't always been so unreasonable during Jifeng's two decades of operation.
In the 2000s, when Jifeng went through a crisis thanks to competition from cut-price online booksellers, Shanghai officials offered to help the bookstore survive, according to Yan Bofei. In 2013, the Shanghai government even supplied Jifeng with a large subsidy in support of brick-and-mortar bookstores.
However, the government's positive attitude toward Jifeng came to an abrupt end in 2014. A local official told Yu Miao directly that Jifeng would no longer get any subsidies. "The reason is very simple; you reflect on it yourself," the official said, without telling Yu the simple reason.
Zhang Xuezhong, a Shanghai-based scholar, told The South China Morning Post that "Jifeng's impending closure was in line with a series of moves by the Chinese authorities to tighten ideological control."
"It has a negative impact on Shanghai's image as an international hub but the authorities are more concerned about political stability," he said. "They don't want to see freer social or cultural events."
While Jifeng, together with its loyal customers, had already accepted its fate, and was quietly counting down the days to its closure, the city authorities decided to give the bookstore another blow on January 30.
According to Qdaily, at 5:20 p.m. on the second-to-last day before its closure, Jifeng was suddenly notified by its landlord that the bookstore's power and water would be cut off at 5:30 p.m. for "equipment maintenance" — an extreme situation that had never happened before.
Jifeng had been scheduled to host a movie event and a small farewell party that night. The unexpected power outage made it impossible to proceed with that plan or conduct other services.
However, Jifeng's loyal customers refused to leave. They used their cellphones to provide light and kept looking for the books they wanted. An employee started to play the guitar and sing songs. Some customers began sharing personal stories related to Jifeng.
At 9:11 p.m., the power unexpectedly came back again. The bookstore's checkout counter started to play a song from the musical Les Miserables: "Do you hear the people sing."