US to Sell Anti-Ballistic Missiles to Japan
The U.S. State Department approved a possible sale of U.S.-made supersonic ballistic missile interceptors to Japan.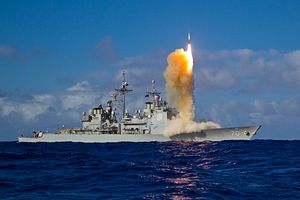 The U.S. State Department has approved a potential sale of Standard Missile-3 (SM-3) Block IIA missiles to Japan for an estimated cost of $133.3 million, according to a January 8 press release published by the U.S. Defense Security Cooperation Agency (DSCA).
"The Government of Japan has requested a possible sale of four (4) Standard Missile-3 (SM-3) Block IIA missiles," the January 8 DSCA statement reads. "Also included are four (…) MK 29 missile canisters, U.S. Government and contractor representatives' technical assistance, transportation, engineering and logistics support services, and other related elements of logistical and program support."
DSCA is the lead agency within the U.S. Department of Defense responsible for arms sales to U.S. allies and partner nations. The sale is subject to congressional approval.
The SM-3 Block IIA, an anti-ballistic missile that can be employed on Aegis-equipped guided missile destroyers or on land, via Aegis Ashore sites, has been under joint development by Raytheon and Japan's Mitsubishi Heavy Industries since 2006. "It is designed to destroy short- to intermediate-range ballistic missile threats. The SM-3 has been successfully flight tested in February [2017] when it destroyed a medium-range ballistic missile target," I reported previously. "However, the missile failed another intercept test in June [2017]."
As I explained elsewhere, Japan is expected to procure two land-based Aegis Ashore missile defense systems by 2023. As I reported last December:
According to some reports, the Aegis Ashore sites, however, will not be fitted with a powerful new air and missile defense radar, Raytheon's AN/SPY-6(V), expected to be installed aboard U.S. Navy warships in the early 2020s.

This would mean that Aegis Ashore batteries would not be able to utilize the extended range of SM-3 Block IIA interceptors estimated to have a maximum operational range of 2,500 km (1,350 miles).
The Aegis Ashore sites will also be armed with SM-6 supersonic missile interceptors with an estimated range of over 180 miles (289 kilometers). "Beginning in 2018, however, SM-6 missiles will be deployed aboard Aegis-equipped Japan Maritime Self Defense Force (JMSDF) warships, including the Atagao-class and Kongo-class destroyers for testing," I noted in October 2017.
Furthermore I explained: "Unlike the SM-3, the SM-6 would not be able to cover all of Japan and would likely be deployed to protect Tokyo and key military installations. Both interceptors theoretically have the capability to shoot down incoming North Korean ballistic missiles."
According to a State Department official, the proposed sales of the SM-3 missiles will boost Japan's ability to defend Japan and the Western Pacific from ballistic missile threats and also follow through on U.S. President Donald Trump's commitment to provide additional defensive capabilities to treaty allies threatened by North Korea's provocative behavior.