US, Japan Successfully Test New Ballistic Missile Killer
A U.S. Navy ship successfully destroyed a ballistic missile target with a new "hit-to-kill" interceptor.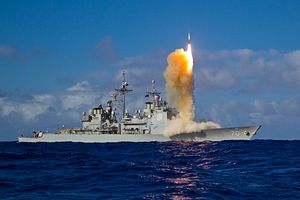 The United States and Japan successfully concluded a flight test of a Standard Missile-3 (SM-3) Block IIA off the west coast of Hawaii on February 3, the U.S. Missile Defense Agency (MDA) announced in a February 3 press release. According to the MDA, a next-generation SM-3, launched from a U.S. warship, destroyed an incoming ballistic missile target.
"At approximately 10:30 p.m., Hawaii Standard Time, Feb. 3 (…) a medium-range ballistic missile target was launched from the Pacific Missile Range Facility at Kauai, Hawaii," the statement reads. The Arleigh Burke-class guided missile destroyer USS John Paul Jones "detected and tracked the target missile with its onboard AN/SPY-1D(V) radar using the Aegis Baseline 9.C2 weapon system," the press release continues. "Upon acquiring and tracking the target, the ship launched an SM-3 Block IIA guided missile which intercepted the target."
This was the third flight test and the first intercept test of a SM-3 Block IIA, the most advanced version of the SM-3 "hit-to-kill" interceptor. The missile interceptor is designed to destroy short- to intermediate-range ballistic missile threats and can be deployed at land-based Aegis Ashore sites and Aegis-equipped warships. The latest of different variants of the SM-3 features a larger rocket motor and a larger kinetic warhead.
"Based on preliminary data the test met its primary objective. Program officials will continue to evaluate system performance based upon telemetry and other data obtained during the test," the MDA said on February 3. "The [SM-3] program has more than 25 successful space intercepts, and more than 240 interceptors have been delivered to U.S. and Japanese navies," according to U.S. defense contractor Raytheon.
The so-called Aegis weapon system is an automated command-and-control and weapons control system providing integrated air and missile defense capabilities to surface warships. As I explained elsewhere:
The heart of the Aegis Combat System is the AN/SPY-1—"the Navy's most advanced multi-function radar system," according to Lockheed Martin. It is an advanced, automatic detect and track, multi-function phased-array radar system. "This high-powered radar is able to perform search, track, and missile guidance functions simultaneously, with a track capacity of more than 100 targets," according to the U.S. Navy. "When paired with the MK 41 Vertical Launching System, it is capable of delivering missiles for every mission and threat environment in naval warfare," Lockheed Martin claims.
The Aegis Baseline 9.C2 weapon system has been specifically designed for ballistic missile defense, and along with the Baseline 9.C1, can engage in simultaneous air and ballistic missile defense. Both versions of the weapon system also have enhanced networking capabilities.
The SM-3 Block IIA Interceptor has been under joint development by the U.S. defense firm Raytheon and Japan's Mitsubishi Heavy Industries, the country's largest defense contractor, since 2006, with Tokyo covering most research and development costs.