Philippine Navy Deploys Japan-Donated TC-90 Aircraft to Scarborough Shoal in South China Sea
The deployment was a first for the Philippine Navy.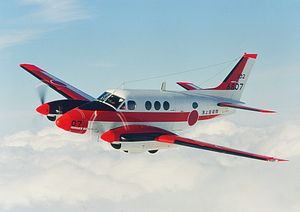 Last week, the Philippine Navy deployed a Beechcraft King Air TC-90 to Scarborough Shoal in the South China Sea. The deployment is the first by the Philippines to use the TC-90 aircraft that its armed forces leased from the Japan Maritime Self-Defense Force in the South China Sea.
According to the Philippine military's Northern Luzon Command, which is responsible for the area encompassing Scarborough Shoal, the TC-90 aircraft conducted a low altitude flight around the disputed feature.
It reportedly flew as low as 240 meters and spotted nine Chinese vessels, four of which were maritime law enforcement vessels. The patrol also found four Philippine fishing boats in the region.
The Northern Luzon Command noted in a statement that it "will utilize all available assets and resources to protect our national territory … and assert our sovereign rights over our maritime domain."
During the operation, the TC-90 did not encounter any resistance or protest from China, the Command noted. Since 2012, the China Coast Guard has maintained a presence at Scarborough Shoal, which China and the Philippines both claim.
The Philippine deployment comes shortly after the U.S. Navy carried out its first freedom of navigation operation within 12 nautical miles of Scarborough Shoal since the feature was seized by China.
Since a late-2016 rapprochement between Manila and Beijing following President Rodrigo Duterte's inauguration in the Philippines, China began granting partial and irregular access to Scarborough Shoal for Philippine fishermen.
The activation of the Philippine Navy's Japan-sourced TC-90 marks an important inflection point for the country's ability to surveil its maritime claims. The Philippine Navy is underequipped and the deal for the transfer of the five TC-90 aircraft with Japan provides an important capability.
For Tokyo, the deal was a way of helping a U.S.-allied claimant state in the South China Sea build capacity to monitor its exclusive economic zone. Even though the Duterte administration has not made challenging Chinese claims in the South China Sea a priority, the TC-90 deal boosted the Japan-Philippines bilateral relationship.
The first TC-90s were delivered to the Philippines in early 2017. The first of the transferred TC-90s was ready for deployment since at least November 2017. The second is undergoing refurbishment. Two of the five aircraft have been delivered to date.
The Beechcraft King Air C90 is a twin-turboprop utility aircraft that was first introduced in the 1960s. In addition to the Philippines and Japan, the C90 is in use with U.S. armed forces. The Japan Maritime Self-Defense Force has been using C90 variants since the 1970s.