Russia Upgrades Long-Range Air Defenses in Pacific Region
Russia has deployed two additional S-400 batteries to the Russian Far East, according to satellite imagery analysis.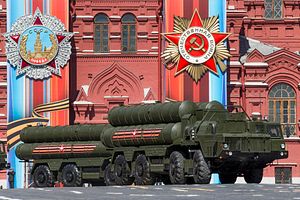 In an ongoing effort to boost its so called anti-access/area denial (A2/AD) capability, the Russian military has deployed two additional S-400 Triumf advanced Air Defense System (NATO reporting name: SA-21 Growler) batteries to the vicinity of Vladivostok, homeport of the Russian Pacific Fleet, in the country's Far East, according to satellite imagery analysis, published by IHS Jane's Defense Weekly.
"Satellite imagery captured in 2017–18 shows that Russia has deployed two S-400 strategic surface-to-air missile (SAM) batteries near Vladivostok, replacing S-300PS batteries," IHS Jane's Defense Weekly writes. "DigitalGlobe imagery captured on 3 December 2017 showed that a former S-300PS positioned east of Vladivostok was equipped with the S-400. Subsequent imagery captured on 24 January 2018 also showed a second S-400 battery deployed near Podnozhye on Ostrov Russkiy, south of Vladivostok."
The standard S-400 battery consists of four transporter erector launchers (TELs), four launch tubes per TEL, in addition to target acquisition and engagement (fire control) radar systems and a command post. (With an additional fire control radar system, a battery can consist of up to 12 TELs.) Two batteries make up a S-400 battalion (also known as a S-400 division), whereas a S-400 regiment consists of two battalions. The Russian military currently operates around 20 regiments (23 according to the Russian Ministry of Defense). By 2020, Russia hopes to have 28 S-400 regiments or 56 battalions.
The S-400 is one of the world's most advanced interceptor-based missile defense systems, as I explained previously:
In comparison to its predecessor, the S-300, the S-400 air defense system features an improved radar system and updated software; it can purportedly fire four new types of surface-to-air (SAM) missiles in addition to the S-300's 48N6E, a vertical tube launched, solid fuel, single stage SAM with an estimated range of 150 kilometers (93 miles), and the improved 48N6E2 missile with a reported range of 195 kilometers (121 miles).

One of the S-400's new missiles is the so-called 40N6 SAM with an estimated operational range of 400 kilometers (248.5 miles) and an altitude of up to 185 kilometers (607,000 feet). The missile is reportedly capable of exo-atmospheric interception of intermediate-range ballistic missile warheads in their terminal phase. However, it is unclear whether the weapon is operational in Russia yet and no images of the 40N6 SAM have surfaced so far.

The S-400 is also armed with an improved variant of the 48N6E2 with an alleged range of 250 kilometers (160 miles). The air defense system can also fire two additional missiles, the 9M96E and 9M96E2 with respective ranges of 40 km (25 miles) and 120 km (75 miles). Improved S-300 air defense systems such as the S-300PMU-2 Favorite (..) can purportedly also fire the 9M96E and 9M96E2.
Overall, Russia currently has a total of seven S-400 batteries deployed in the Joint Strategic Command East also known as the Eastern Military District, one of four operational strategic commands of the Russian Armed Forces. The deployment of additional S-400 air defense systems correlates with the need to protect Russia's slowly expanding naval presence in the Asia-Pacific region. In 2018, the Russian Navy's second biggest fleet is expected to receive ten new warships including new nuclear-powered ballistic missile submarines.