Stockholm Attacker Rakhmat Akilov Pleads Guilty to Terrorism
Before the attack, Akilov was in touch with Islamic State recruiters via messaging apps.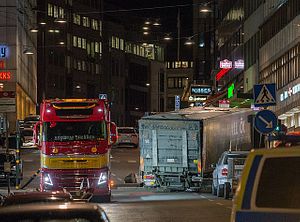 Tuesday in Stockholm, the trial of Rakhmat Akilov — an Uzbek citizen accused of stealing a beer delivery truck and driving it into a crowd last April in the Swedish capital — began with his guilty plea. Prosecutors are seeking a life sentence. 
Akilov, who reportedly left Uzbekistan in 2012 to look for work, applied for asylum in Sweden in 2014. His application was denied in December 2016 and he was told to leave the country. He did not and landed on a wanted list in February 2017.
The April 2017 truck attack killed five people and seriously injured ten others. On the first day of the trial, Swedish prosecutor Hans Ihrman reportedly also read out the names of 130 other people who were put at risk of being killed by the attack.
Shortly after his capture, Akilov admitted guilt. No group officially claimed the attack.
The trial's opening was prefaced by the release of a joint investigation by RFE/RL's Uzbek and Tajik services and Swedish news agency TT, which found that Akilov was in contact with alleged Islamic State (ISIS) militants from Tajikistan before, during, and after the attack.
Akilov, 39, is a member of the ethnic Tajik minority in Uzbekistan.
Early reporting noted that people who knew him said Akilov was not particularly religious, but that he shared two ISIS propaganda videos on his Facebook account. After his arrest, Swedish police found several "terrorist-related" contacts on messaging apps like Zello and Telegram. Swedish media reported that "[a]lmost all of the conversations were in the Tajik language, while one was in Uzbek and one in Russian."
In court, the prosecutor said Akilov pledged allegiance to ISIS in mid-January 2017 and discussed becoming a martyr via the chat apps. According to the prosecutor, Akilov had 53 SIM cards, which were used to communicate his plans with others. The night before the attack, he reportedly wrote in a chat "tomorrow, in the evening I will find a large vehicle and I will drive into a crowd with it."
The RFE/RL and TT investigation connects the dots between some of Akilov's contacts, who were using aliases, and mostly Tajik ISIS recruiters.
Tajik Interior Minister Ramazon Rahimzoda told RFE/RL that Dushanbe had not been contacted by Stockholm with regard to Akilov's suspected ties to Tajik ISIS members. This is curious given the relatively high profile of Tajiks among foreign fighters in the Islamic State's structure. For example, Gulmurod Khalimov, a former special police commander in Tajikistan was reportedly a high-ranking ISIS commander in Mosul before April 2017, when reports surfaced that he'd been killed in an airstrike. The fact that many of Akilov's chat logs were in Tajik should have set phones in Dushanbe ringing, Akilov's Uzbek citizenship aside. 
Akilov is expected to speak before the court next week. On the first day of the trial his court-appointed lawyer, Johan Eriksson, said his client aimed to cause "fear" with his attack, hoping to push Sweden out of the U.S.-led coalition fighting the Islamic State. Depending on what Akilov says, we may get a better understanding of his specific path from migrant to asylum seeker to terrorist. The case could also help shed light on the murky digital world, through which so many of the Islamic State's foreign fighters were recruited.
Meanwhile, the Islamic State has suffered huge territorial losses in the past year, prompting worries about where the group's members will go.