US F-15 Fighters Can Now Fire New Stealthy Standoff Cruise Missile
The USAF declared full operational capability for the Joint Air-to-Surface Standoff Missile-Extended Range on the F-15E.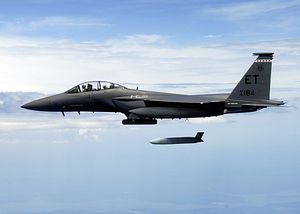 Lockheed Martin's subsonic, turbofan-powered AGM-158B Joint Air-to-Surface Standoff Missile – Extended Range (JASSM-ER) cruise missile has achieved full operational capability (FOC) on the Boeing F-15E Strike Eagle multirole strike fighter, according to a February 8 company statement.
The U.S. Air Force (USAF) had already declared FOC for the new weapon system on the F-15E in late 2017; however, this was only publicly revealed this month, IHS Jane's Missiles & Rockets reports.  The introduction of the new missile adds a significant boost to the U.S. military's standoff air-to-surface strike capabilities.
"With completion of integration and the fielding of JASSM-ER's Suite 8 Operational Flight Program, the F-15E Strike Eagle becomes the first Universal Armament Interface (UAI)-compliant platform to field JASSM-ER," Lockheed Martin notes in a press release. "UAI-compliant aircraft feature standardized interfaces to support future weapon integration."
The integration of the missile on the new fighter jet was led by the U.S. Air Force Seek Eagle Office. The USAF currently operates 219 F-15E Strike Eagles.
"Fielding on the F-15E Strike Eagle expands JASSM-ER's mission flexibility," said Jeffrey Foley, program director of Long-Range Strike Systems at Lockheed Martin Missiles and Fire Control. "With its greater than 500 nautical-mile standoff range and planned block upgrades currently in work, JASSM-ER provides an impressive tactical advantage for U.S. and allied warfighters."
In comparison to the JASSM, the extended range variant has more than double the range. The USAF approved full-rate production of the JASSM in December 2014.  The U.S. military plans to buy over 2,400 JASSMs and 2,978 JASSM-ERs. The cost per missile is around $1 million for the former and $1.75 million for the latter.
Both the JASSM and JASSM-ER are long-range, radar-evading cruise missiles designed to destroy hostile air defenses and well-defended fixed and relocatable targets while keeping strike aircraft safely out of range from enemy air defense systems.
"Armed with a penetrating blast-fragmentation warhead, JASSM-ER and JASSM can be used in all weather conditions," according to Lockheed Martin. "These highly accurate cruise missiles also employ an infrared seeker and enhanced digital anti-jam GPS to dial into specific points on targets."
The JASSM-ER is already integrated on the B-1B Lancer and is in the process of integration on the B-2 Spirit, B-52 Stratofortress, F-16 Falcon F/A-18E/F Super Hornet, and the F-35 Lightning II.
The U.S. Navy has also been working on an anti-ship variant of the JASSM, designated Long-Range Anti-Ship Missile (LRASM), which will be available in air-launched and ship-launched variants. The LRASM was successfully test fired from a B-1B Lancer over Point Mugu Sea Range in California on December 12.