What Does US Participation at the Singapore Airshow Reveal About Trump's Asia Policy?
A closer look at what an uptick in American involvement at the event signals about the administration's approach.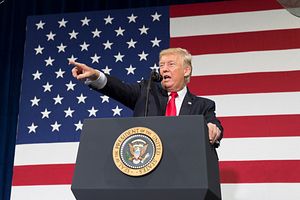 Since last week, there has been significant media attention devoted to the extent of U.S. participation at this year's iteration of the biennial Singapore Airshow, the region's largest event of its kind which kicks off this week. Though there certainly is an uptick in the level of American participation this year which reveals the defense priorities of the Trump administration, this also masks deeper unresolved and outstanding questions about its overall approach to the region.
The recent level of U.S. participation in the Singapore Airshow since it started in the mid-1990s has usually been quite significant, which reflects both the longstanding presence of U.S. defense firms in some key Asian markets as well as the continued demand for their products. It is also not uncommon for U.S. officials to be part of delegations that attend events like the Singapore Airshow as part of wider regional visits. Apart from the fact that the such events tend to illustrate the level of support that the U.S. government has for the defense industry, these platforms can also be tied to broader advances in bilateral defense ties, and some of these officials are also directly involved in approving any sales (See: "Managing US-Thailand Relations in the Trump Era").
But the level of U.S. participation this year in Singapore Airshow 2018 (SA18) has been scrutinized more so than that of previous years. That is no surprise. In part, this is part of a wider trend where routine developments in U.S. policy – be it the issuance of documents like the National Security Strategy or the State of the Union address – are given much more attention (and at times much more significance than they actually have) given the unprecedented uncertainty that surrounds the administration led by U.S. President Donald Trump and the quest to make sense of ongoing developments.
Yet with respect to SA18, it is also true that there has certainly both more of an effort by the Trump administration to highlight the level of U.S. participation this year, including among media outlets and regional observers. And to be fair, there has also been an increase in some metrics, such as the number of American exhibitors there (more than 170 this year compared to over 140 last year), as well as new platforms that are on display as well such as the US' RQ-4 Global Hawk and F-35Bs. This has been framed as being in line with Trump's desire to boost sales of U.S. equipment overseas as well as to devote greater attention to strengthening the U.S. military.
During a conference call with journalists tied to the U.S. participation at SA18 on Sunday night, Tina Kaidanow, the principal deputy assistant secretary in the State Department's Bureau of Political-Military Affairs, also cast the high level of U.S. representation at SA18 as reaffirming Washington's deep commitment to the region in general and Southeast Asia in particular, with visits by top officials including Secretary of State Rex Tillerson, Defense Secretary Jim Mattis, and Trump himself (See: "What Does Mattis' ASEAN Trip Say About Trump's Asia Policy?").
Kaidanow is certainly right that the extent of U.S. engagement with Southeast Asia has been quite robust during Trump's first year in office. As I have noted before, this is evident not just in terms of visits by U.S. officials to the region, but also the fact that a record four Southeast Asian leaders visited the White House during the administration's first year as well and that U.S. policymakers have been consciously incorporating the subregion as part of a wider Indo-Pacific strategy in recognition of its importance.
At the same time, it is still early days and there are many unresolved questions in the region about the Trump administration's approach to the region. Though using occasions like SA18 to reinforce the U.S. commitment to the region might help ease some general anxiety, much of the uncertainty lies in other aspects of U.S. policy beyond the defense realm, be it in terms of economics after Trump's withdrawal from the Trans-Pacific Partnership (TPP) trade pact or cuts to the State Department itself that has contributed (See: "Trump's Indo-Pacific Strategy Challenge").
Kaidanow no doubt recognizes this herself, which is why she was careful to emphasize that the level of U.S. participation at SA18 was only one aspect of a broader U.S. commitment to the region. As with the administrations before it, the Trump administration will no doubt find that even though it continues to do well in terms of various metrics of engagement with the region, the harder task is fashioning a more balanced and multidimensional strategic vision.