What Will Taiwan's Cabinet Shake-up Mean for Cross-Strait Relations?
Taiwan's foreign affairs, defense, national security, and cross-strait portfolios get reshuffled.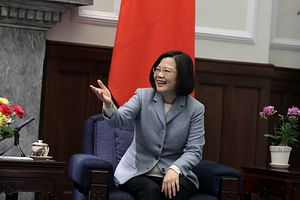 Taiwan's government reshuffled a number of key cabinet positions on Friday, resulting in new faces at the head of the Foreign Ministry, Defense Ministry, National Security Council, and Mainland Affairs Council.
First, Defense Minister Feng Shih-kuan will be stepping down, to take up a position as the head of a yet-to-be-launched defense ministry think tank. Feng, who previously served in Taiwan's Air Force as deputy commander, will be replaced by Yen Teh-fa, a retired Army general and former chief of the General Staff.
Yen was serving as the secretary-general of the National Security Council, a position that will now be filled by Foreign Minister David Lee. That, in turn, leaves the foreign minister position open; Joseph Wu, a veteran diplomat with a close relationship to President Tsai Ing-wen, will take up that post. Wu was heading up the Presidential Office before his new post was announced, and previously was involved with Tsai's campaign. Wu has a strong diplomatic background; like Lee, he had served as Taiwan's chief representative in the United States under former President Chen Shui-bian.
Tsai's move to appoint a close ally to helm the foreign ministry may be a signal she wants to take a more active role in foreign policy, Taiwan's Central News Agency (CNA) suggested, citing an anonymous government official. However, Richard Bush, Chen-Fu and Cecilia Yen Koo Chair in Taiwan Studies at the Brookings Institution in Washington, DC, told The Diplomat he believes that is "an over-interpretation."
It has been a difficult stretch for Taiwan diplomatically, thanks to an icy cross-strait relationship. Beijing has blocked Taiwan from continuing its informal participation in various global bodies, such as the World Health Assembly. Since Tsai assumed office, the mainland has also successfully persuaded two of Taiwan's diplomatic allies – first Sao Tome and Principe, then Panama — to recognize the People's Republic of China instead (another country, Gambia, made the switch in March 2016, two months ahead of Tsai's inauguration). Some voices in Tsai's Democratic Progressive Party (DPP) had blamed Lee personally for these setbacks; the shift to Wu will be welcomed by those critics.
In another piece of the cabinet reshuffle, Chen Ming-tong will replace Chang Hsiao-yueh as head of the Mainland Affairs Council (MAC), the government agency responsible for relations with the mainland. Notably, Chen held that same post under the Chen Shui-bian administration, at a time when cross-strait relations had reached a nadir. Notably, Chen Ming-tong also served as vice chair of the MAC when Tsai herself was chair, from 2000 to 2004.
Chen Ming-tong reportedly was one of the architects of cross-strait policy for former President Chen Shui-bian. Chen Shui-bian, along with Tsai, are the only two members of the Democratic Progressive Party (DPP) to be elected president. Both faced a unique challenge: how to continue to appeal to their base, which includes a strong pro-independence component, while navigating the realities of Taiwan's vulnerability vis-a-vis Beijing. Chen Shui-bian struggled to find the right balance; after repeated stonewalling from Beijing early in his tenure, he shifted tactics and embraced pro-independence tendencies to shore up support from his base. The question now is whether Tsai Ing-wen is poised to follow that same path.
Tsai's approval rating has declined markedly since her inauguration, and is now hovering around 30 percent. The DPP's image has also suffered; in June 2016, the month after Tsai took office, support for the DPP was at 51.6 percent, while the main opposition party, the Kuomintang (KMT) had a dismal 18.9 percent support. That gap has now almost closed. As of January, a survey by the same group (the Taiwan Public Opinion Foundation) had DPP support at 28 percent and KMT support at 24 percent. Approval of Tsai's cross-strait policy has particularly tumbled, from 51.4 percent just after her inauguration to 30.8 percent in January.
That's bad news for Tsai and the DPP as Taiwan heads into midterm season, with local elections slated for November. Those races will be an important test ahead of Tsai's re-election bid in 2020. She is likely hoping that the cabinet shake-up will help right the ship and increase her poll numbers before voters make their decisions this fall.
However, in the end, the reshuffle might not translate into a new policy approach. "In my view," Bush told The Diplomat via email, "Tsai is 'the decider' when it comes to cross-Strait and foreign policy. Her subordinates may vary in how they articulate and implement those policies, but they are her policies."
The new cabinet appointments will take effect on February 26, apart from Chen, who will assume his role as MAC chief in mid-March, according to Executive Yuan spokesman Hsu Kuo-yung.