A Season of North Korea Summits: The View from Beijing and Seoul
With a flurry of summits on the schedule, how do China and South Korea view North Korean diplomacy and the U.S. position?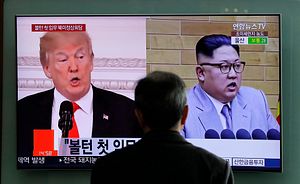 After several days of speculation, it was revealed that Kim Jong-un was indeed in Beijing for a meeting with Chinese President Xi Jinping. Kim's two-day visit was his first known trip abroad since coming to power in 2011. The Kim-Xi meeting adds to a flurry of diplomatic activity in the region, with plans for several summit meetings already underway.
Most notable among them are next month's inter-Korean summit, which yesterday both Koreas confirmed would be held on April 27 at the truce village of Panmunjom, and the as-yet-unconfirmed May summit between Kim and President Trump. There are also plans for a summit meeting between Japanese Prime Minister Shinzo Abe and Trump in April, a potential Japan-China-South Korea trilateral summit in May, and possibly even a bilateral meeting between Abe and Kim Jong-un in June.
For the Chinese side of things, I spoke with Dr. David Bachman of the Jackson School of International Studies at the University of Washington. Bachman, an expert in China's domestic politics and foreign policy, began with the necessary qualification that it is too soon to make any sweeping assessments. Nevertheless, he provided some valuable insight into what the Kim-Xi summit may reveal about current relations between China and North Korea.
First, I asked about the impetus behind the meeting. In other words, who initiated it, Xi or Kim? Bachman observed that Beijing made it appear as though it had asked for the summit. Nevertheless, he added, regardless of who initiated it, the meeting was in the best interest of both parties in order for them to align or, at minimum, make clear to one another their respective positions.
He also highlighted that, if Xinhua News Agency's report is accurate, Chinese statements made at the meeting imply that the debate in foreign policy circles within China about whether or not to cut ties with Pyongyang in favor of a full tilt toward Seoul has ended (at least for now). Furthermore, citing the Global Times, Bachman remarked that China also refuted the idea that it had any intention to intervene in North Korea's domestic political system or overthrow the Kim regime, a notion floated by some recent analysis.
Next, I asked him what parallels he saw with earlier events. Bachman noted one obvious similarity was that Kim Jong-un, just like his father Kim Jong-il had done in 2000, visited Beijing six years after coming to power. However, there were also notable differences, namely, China-North Korea relations then were relatively more favorable than they are today. In addition, the overall international environment in 2000 was more conducive to cooperation. The 1994 Agreed Framework was still in place, the Korean Peninsula Energy Development Organization (KEDO) continued to operate, then-U.S. Secretary of State Madeleine Albright would soon visit Kim Jong-il in Pyongyang in October of 2000, and the latter had maintained a self-imposed moratorium on its missile-testing program.
Lastly, I asked what implications the Kim-Xi meeting has for the upcoming inter-Korean and Kim-Trump summit meetings. Bachman's sense was that Kim would continue to soft-pedal the conditions or quid pro quo he had in mind for denuclearization, yet that he likely ran it by Xi in more detail. The conditions could well include a demand for the full removal of U.S. forces from South Korea and abrogation of the U.S.-ROK alliance. Beijing's maximum hope, he observed, would be for U.S.-ROK relations to fully rupture, allowing it to step in to guarantee security in its own manner. Again, he stressed, such possibilities are still speculative presently, but would match longer-term Chinese goals.
For its part, Seoul welcomed the Xi-Kim summit as a positive development, consistent with President Moon Jae-in's ongoing and assertive diplomatic effort to foster peace on the Korean Peninsula. As Choi He-suk of the Korea Herald reported, one high-level Blue House official stated: "Kim's comments from the summit (with Xi), such as that denuclearization is the will of his ancestors, signal positive effects for the inter-Korean and U.S.-North Korea summits." He continued that the Moon administration was approaching North Korea-related issues with "all possibilities in mind."
This follows Moon's remarks last week, when he spelled out just what he had in mind. The upcoming summits, including a possible trilateral U.S.-South Korea-North Korea meeting following that between Kim-Trump, should aim for a "complete end" to the nuclear and peace issues on the Korean Peninsula, Moon said. In exchange for North Korea's denuclearization, the "clear goal and vision" should include the replacement of the 1953 Armistice with a formal peace treaty, normalization of relations between North Korea and the United States, fostering further inter-Korean ties, and economic cooperation involving Pyongyang and Washington. By implication, this would mean undoing the severe international sanctions regime placed on Pyongyang for its nuclear and missile programs.
Yet, two very problematic and unavoidable questions remain. What does Pyongyang mean by denuclearization? And, relatedly, can the Moon and Trump administrations maintain a unified position?
As Bonnie Glaser notes, aside from Kim's alleged statement, reported by Xinhua, KCNA has said nothing about denuclearization. Kim allegedly said: "The issue of denuclearization of the Korean Peninsula can be resolved, if South Korea and the United States respond to our efforts with goodwill, create an atmosphere of peace and stability while taking progressive and synchronous measures for the realization of peace." Exactly what he meant by "progressive and synchronous measures" remains unclear. However, it is likely similar to the same series of steps mentioned above by Moon.
This leads to the second question, that of U.S. and ROK unity or lack thereof. Official South Korean and U.S. government spokespersons' statements aside, there are obvious reasons to doubt Seoul and Washington are in sync. Trump's position is clear: "maximum sanctions and pressure must be maintained at all cost!"; Pyongyang must accept complete, verifiable, and irreversible denuclearization (CVID) and by implication the incredibly invasive inspections regime that comes with it; and, if Kim Jong Un does not accept this, military action is an increasingly viable option.
Trump's recent appointments of Mike Pompeo as Secretary of State and John Bolton as national security advisor clearly signal his administration is not becoming more flexible. Rather, its position is hardening. Bolton's views on North Korea are incredibly aggressive. He holds that Pyongyang is only negotiating to buy time to further develop its capabilities and try to loosen sanctions. For him, the point of the Kim-Trump summit is simple: Meet, state immediately that Pyongyang must agree then and there to give up everything, and if not, then back to his preferred option, military force.
While Trump's rapid acceptance of Kim Jong-un's summit offer appeared to signal certain flexibility by stepping back from the previous U.S. requirement that Pyongyang accept CVID as a pre-condition to even hold talks, the president's behavior is impetuous and aimed at garnering applause and headlines in the moment. To expect a sound and steady strategy from him would be to ignore daily evidence to the contrary. In other words, he could very easily rapidly shift back to the rhetoric of fire and fury.
Seoul knows this, and they do not share his position. The two allies differ on what is meant by North Korean denuclearization and, more importantly, how we are supposed to get there. Reportedly, Trump is displeased with Moon's assertive efforts to lead the process, looks askance at the follow-up trilateral meeting Moon has proposed, and just yesterday said he would not affirm the renegotiated U.S.-South Korea trade pact in order to pressure Seoul into following Washington's lead on North Korea.
Although it will not say so publicly, the Moon administration likely shares the sentiment recently voiced by opposition lawmaker Yoo Seong-min, co-leader of the centrist Bareunmirae Party. Following his trip to Washington D.C., where he found discussion of military strikes on North Korea to still be very much alive, Yoo stated flatly: "I have come to the conclusion that the Seoul government has to seek to reduce risks from the U.S. given that the U.S. government's decision-making (process) is uncertain and difficult to predict." Despite the hopeful sentiments swirling around the various summit meetings, this deeply troubling reality remains.