Ablyazov's Balloons: Kazakh Opposition Co-opts the Color Blue
International fugitive and Kazakh opposition star Mukhtar Ablyazov urged supporters to carry blue balloons during the Nowruz holiday.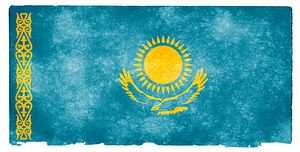 Last week, as Kazakhs celebrated Nowruz, people in Astana's central square carrying blue balloons — the color of the Kazakh national flag — were stopped by police. Their balloons were reportedly taken and their identities checked. Sometimes a balloon is not just a balloon.
Ahead of the holiday, Mukhtar Ablyazov, fugitive Kazakh banker and staunch critic of President Nursultan Nazarbayev, called on his followers via YouTube to express their support by carrying blue balloons during the Nowruz holiday.
Ablyazov and other opposition figures resurrected the Democratic Choice of Kazakhstan (DVK) movement last year, only to have it outlawed earlier this month. On March 13, a court in the Kazakh capital ruled that the movement was "extremist" because it "propagates the forcible change of Kazakhstan's constitutional order." The ruling thereby criminalized its supporters. DVK's stated goal was "democratic reforms in Kazakhstan."
Ablyazov is an internationally controversial figure. He's wanted in Kazakhstan, Russia, and Ukraine on embezzlement charges, and has rulings against him in the UK. The city of Almaty and his former bank, BTA, filed a case in a U.S. federal court, and his name has surfaced in reporting about the Trump SoHo building in New York.
Ablyazov maintains that the charges against him are politically motivated. In December 2016, a French court voided the extradition that had been approved by a lower court in January 2014. Ablyazov was released and has since turned up the heat, from afar, on the Nazarbayev regime.
In July, a court in Astana convicted and sentenced Ablyazov in absentia to 20 years for a range of crimes, from embezzlement to abuse of office and organizing a criminal group.
According to Reuters, the DVK claimed it had 80,000 members, information that is nearly impossible to verify. Nevertheless, Ablyzov's YouTube appeal has been viewed more than 170,000 times as of writing.
On Facebook, after the blue balloon confiscations, Ablyazov claimed victory, mocking the authorities for taking balloons from little girls. "The blue balloon has become a symbol of extremism in Nazarbayev's Kazakhstan," he wrote. "People whose job it is to fight against criminality today waged war against peaceful people celebrating in our country. They even took children to police stations. And all this is happening against a backdrop of incessant looting, violence and murder."
Ablyazov posted several videos, apparently from the Nowruz festivities in Kazakhstan, showing police confronting bearers of blue balloons. RFE/RL also had footage of Kazakh police confiscating balloons, some emblazoned with the Kazakh flag, from people in Astana.
Given that blue is a popular springtime color and the base of the Kazakh national flag, it's unclear how many of those bearing blue balloons were actually Ablyazov supporters and how many were just out celebrating the holiday with their families, unaware that the color blue meant something more than a clear sky. That's perhaps the genius of the move: Astana doesn't know how many supporters the opposition really has, but they're clearly nervous enough to snatch balloons from children, which adds to Ablyazov's argument that Kazakhstan isn't the democracy its leaders like to say it is.