Even the Ghost of a Possible Protest Spooks Kazakhstan
Mukhtar Ablyazov's efforts to orchestrate protests from abroad have had feeble results. But Kazakh authorities are taking no chances.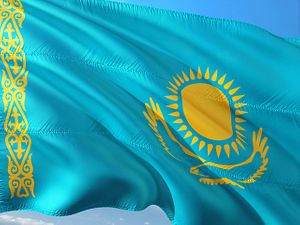 Dozens of people were detained across Kazakhstan on June 23 as Astana sought to abort a planned protest called for by the Democratic Choice of Kazakhstan (DVK), an opposition party banned as an extremist group by the Kazakh government in early March.
DVK is led by Mukhtar Ablyazov, a decidedly controversial figure in Kazakh politics. Ablyazov formed the party the first time in 2001 with a cohort of Kazakh businessmen and politicians, but Astana was neither pleased nor prepared for serious opposition. The party disbanded around 2005 but was resurrected and repurposed in 2017 by Ablyazov, now living in exile in Europe.
In early March, Astana's Yesil District Court ruled that DVK "propagates the forcible change of Kazakhstan's constitutional order" and therefore qualified as an extremist organization. As Eurasainet reported at the time, "the court's decision makes it unlawful to disseminate Ablayzov's video addresses through media, social media and private messengers. Any public show of support of DVK will in principle now be subject to prosecution."
Ablyzaov is an active Facebook and Instagram user. On Facebook, Ablyazov called for the June 23 protests. Ostensibly, the protest was to push for free education for all Kazakhs. The platform outlined argued for greater government funding of education, higher teacher salaries, and the return of free meals for elementary students. Ablyzaov's post also mentioned raising the salaries of police.
The June 23 protest went about as well as Ablyzov's last grand call for a public gathering by his supporters. On March 20, after the DVK was officially banned, Ablyzaov called on his followers via YouTube to express their support for the movement by carrying blue balloons during the Nowruz holiday. The call led to the bizarre scene of police accosting Kazakh citizens carrying blue balloons — incidentally the color of the Kazakh flag —  during the Nowruz festivities.
On Saturday, according to RFE/RL, police in Almaty set up barricades at the purported protest site and questioned anyone who tried to enter the area. RFE/RL's correspondents estimated that at least 10 people were taken away in a police bus. Reuters noted that "police quickly moved to detain almost everyone at the location, including those who said they were only passers-by." In Astana, police also detained more than 10 people and a representative from the local prosecutor's office was reportedly telling people to leave the area and that the protest was not government sanctioned. RFE/RL correspondent Sanat Urnaliev was detained by police in Uralsk and reportedly questioned for six hours before being released.
Ablyazov is essentially Kazakh President Nursultan Nazarbayev's arch-nemesis. Ablyazov, a fugitive banker who was nearly extradited to Russia by France in 2016, remains one of Nazarbayev's loudest critics.
While Ablyazov boasts thousands of followers on social media — about 175,000 on Instagram and 38,345 on Facebook — and DVK claimed in March to have 80,000 mostly Kazakhstan-based members, there's little apparent momentum on the ground for the movement. Whether this is because its reformist messages lack appeal, Kazakhs are turned off by Ablyzov's less-than-pristine reputation, or simply because Kazakhs don't see protests as a viable option is up for interpretation. Even if the first two factors could be eliminated in full (and that, in my opinion, would be a stretch) the third has serious weight given how Kazakh authorities have responded to past mass demonstrations of the kind Ablyazov wishes he could orchestrate.
Astana blames Ablyazov for the 2016 land code protests, which were the largest demonstrations of their kind in Kazakhstan in a decade. Whether one believes that or not, the ensuing crackdown signaled the tight limits of expression in Kazakhstan. Indeed, ahead of the scheduled June 23 rallies, four journalists in Oral in western Kazakhstan were summoned to the police station after a Facebook comment on their media outlet's Facebook page received a comment which called on Kazakhs to attend the DVK rallies. Despite the fact that, as Joanna Lills wrote for Eurasianet in May, "In truth… all the Ablyazov-incited protests have been decidedly modest and could in no credible manner be described as threats to the prevailing order," Astana continues to react nervously to the rather insubstantial political machinations of an exiled fugitive banker.