Australia Orders Expulsion of 2 Russian Diplomats Over UK Nerve Agent Assassination Attempt
Australia joins 18 other countries in retaliating against Russia.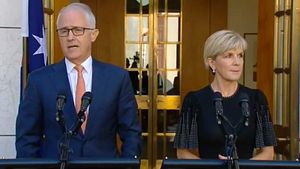 Australia has decided to expel two Russian diplomats as a response to what the United Kingdom has said was a chemical nerve agent attack on its soil earlier this month. Canberra's decision echoes that of several European states and the United States, which together have announced the expulsion of scores of Russian diplomats.
"Together with the United Kingdom and other allies and partners, Australia is taking action in response to the recent nerve agent attack in Salisbury, UK," noted a statement by Australian Foreign Minister Julie Bishop. Australian Prime Minister Malcolm Turnbull, meanwhile, said on Tuesday that "The brazen attack, the criminal attack in the United Kingdom, in Salisbury on the 4 March, was an attack on all of us."
"We share the outrage of the British government and other allies and partners over the deployment of a military grade nerve agent, in an attempted assassination in Salisbury, in the United Kingdom," Bishop noted.
"Two Russian diplomats identified as undeclared intelligence officers will be expelled by the Australian Government for actions inconsistent with their status, pursuant to the Vienna Conventions." The Australian government has given these two diplomats seven days to leave the country.
On March 4, former Russian spy Sergei V. Skripal and his daughter were poisoned in the UK town of Salisbury. The UK government later found that the attackers had used a known nerve agent of the Novichok — or "newcomer" — series developed in the Soviet Union. The attack was attributed to Russia.
The Australian statement underlined the "shocking nature of the attack," which it described as "the first offensive use of chemical weapons in Europe since World War II, involving a highly lethal substance in a populated area, endangering countless other members of the community." The attack on Skripal and his daughter left civilians and first responders exposed to the nerve agent. "It was an attack on the sovereignty of every nation that respects the rule of law and that is why we are taking this action today," Turnbull noted.
"Such an attack cannot be tolerated by any sovereign nation," the Bishop's statement noted, strongly supporting the UK's position. Australia and the United Kingdom maintain close ties as allied Commonwealth realms and participate in a range of military and intelligence arrangements, including the so-called Five Eyes intelligence-sharing consortium with the United States, Canada, and New Zealand. The two countries are also members of the Five Power Defence Arrangements with Malaysia, Singapore, and New Zealand.
So far, Australia and 18 other countries excluding the United Kingdom have decided to expel Russian diplomats in retaliation for the Salisbury nerve agent assassination attempt.