Is Russia Arming the Taliban?
There's no proverbial smoking Kalashnikov, but American officials continue to suggest Russia is arming the Taliban.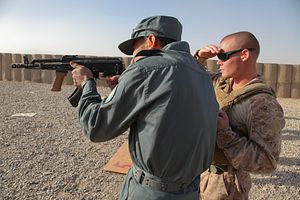 Friday, in an exclusive interview with the BBC, the commander of U.S. forces in Afghanistan, General John Nicholson, reiterated American concerns that Russia is supporting and possibly arming the Taliban.
The claim — which has been made before — rests on thin public evidence and comes amid increasingly sour U.S.-Russian relations. It's a classic he-said, he-said — with Moscow firmly denying the accusation, calling it "idle gossip."
"We share some interests with Russia in Afghanistan, but clearly they're acting to undermine our interests as well," Nicholson said in the recent BBC interview.
He went on to say, "We've had stories written by the Taliban that have appeared in the media about financial support provided by the enemy. We've had weapons brought to this headquarters and given to us by Afghan leaders and said, this was given by the Russians to the Taliban. We know that the Russians are involved." Nicholson also noted Russian disinformation campaigns in general, perhaps to head off the inevitable Russian denial.
According to the BBC, senior Afghan police officers and military figures say the weapons include night vision goggles, medium and heavy machine guns and small arms.
Nicholson has been mentioning the possibility of Russian support for the Taliban for over a year. He has also said the aim is to undermine the United States and NATO.
In February 2017, Nicholson appeared before the Senate Armed Services Committee. Bill Nelson, a senator from Florida, said, "If Russia is cozying up to the Taliban — and that's a kind word — if they are giving equipment that we have some evidence that the Taliban is getting … and other things that we can't mention in this unclassified setting? And the Taliban is also associated with al-Qaida? Therefore Russia indirectly is helping al-Qaida in Afghanistan."
Nicholson responded, "Your logic is absolutely sound, sir."
Last March, during a visit to London, U.S. Secretary of Defense Jim Mattis said "We have seen Russian activity vis-a-vis the Taliban." At the time he said we was "not willing to say at this point if that is manifested into weapons and that sort of thing, but, certainly, what they are up to there in light of their other activities gives us concern."
There's still no proverbial smoking Kalashnikov — or rather, there may be too many.
For example, in February 2016 Russia sent a plane laden with 10,000 AK-47s to Kabul as military aid for the Afghan government. A decade earlier, according to C.J. Chivers, "10,000 Kalashnikov knockoffs were transferred… to Afghanistan from Slovenia." At least some of them, he wrote, were Chinese clones. There's no shortage of weapons in Afghanistan, many of them Russian-made or Russian-designed. The AK-47 , the Kalashnikov, is one of the world's most widely used weapons and its variants are manufactured in more than two dozen countries.
A 2014 report from the Special Inspector General for Afghanistan Reconstruction (SIGAR) argued that the accounting of surplus weapons by Afghan security forces left much to be desired. In 2010, the report noted, the coalition switched from distributing AK-47s to Afghan forces to M16s and M4s, in the interests of interoperability with NATO forces; but plans were not made to recover or destroy the no-longer-needed Kalashnikovs. The 2014 report noted a surplus of more than 80,000 AK-47s on the Afghan security forces' books.
After Mattis' March 2017 suggestion that the Russians were up to something, CNN reported that "The Taliban have received improved weaponry in Afghanistan that appears to have been supplied by the Russian government, according to exclusive videos obtained by CNN."
In the video, a "breakaway" group of Taliban display the weapons and say they had been given to the main Taliban by the Russians, via Iran to fight the Islamic State. But the article notes "These two videos show sniper rifles, Kalashnikov variants and heavy machine guns that weapons experts say are stripped of any means of identifying their origin."
So, the sun rises in the east and Afghan militants carry Kalashnikovs. More seriously: the evidence that has been presented publicly is not, in itself, terribly convincing but there's certainly room for a whole trove of information unavailable to the public in this regard. 
American officials have consistently suggested for more than a year that Russia is arming the Taliban, and the Russians have consistently denied the accusation.