Nepal's Leadership in Transition
With the old guard aging out, it's time for Nepal to foster a new generation of future leaders.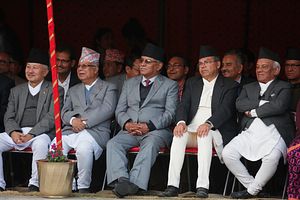 On February 15, Nepal swore in its 38th prime minister, Khadga Prasad (K.P.) Oli, an eloquent leftist politician widely known for his ultra-nationalist prologue. Oli will be the first leader of Nepal's newly created republic, under the 2015 constitution. This is K.P. Oli's second stint as prime minister; his previous time in office was characterized by outreach to China to minimize India's monopolistic "big brother" behavior. That gave Oli a popularity boost, which helped the newly formed Left Alliance between Nepal's main communist parties become the front runner in last year's elections.
Many political onlookers believe Nepal has now entered an era of stability, citing the promise of stable leadership with the presence of local bodies after 20 years. Looking at Nepal's recent political development, while the election has signaled a transition from post-conflict society toward a period of stabilization, it is also an era of transition toward a new generation of political leaders from the "old watchdogs."
Nepal's so-called top political leaders, the ones who have taken the prime ministerial position over last decade, are all well over 60. Since the move to a constitutional monarchy in 1990, seven prime ministers have had two or more separate terms in office, and three of these are still active in politics: outgoing Prime Minister Sher Bahadur Deuba, who is 71, and the two top leaders from the Left Alliance: Current Prime Minister K.P. Oli (66) and Pushpa Kamal Dahal or Prachanda (63). Both Oli and Prachana, who have a deal to share the premiership, will probably phase out after the current five-year term.
In politics, charisma is the lifeblood of politicians, and much of these leaders' "charisma" has been sapped by broken promises and a constant struggle for power. This continuing conundrum has hamstrung Nepal's governance mechanism and discouraged aspiring youth from taking leadership roles. The new government under Oli was made possible due to the unification of two large parties rather than support for a single leader. Their widely optimistic promises are harder to sell among the growing literate population. Subsequently, the lack of credibility among top leaders has the rising appeal of progressive young leaders as an alternative to the old establishment.
The loss of credibility is due to the party leadership failing to address the needs of the young people. Matt Hann, Mark Weinstein, and Dominic Wring, in their exploration of British politics, argue that such a trend causes the younger generation to become disillusioned, and see politics as a self-driven power-hungry game. Similarly, in Nepal, young people typically have not viewed politics as an important issue in their daily lives.
Another important factor, unique to Nepal, is the New Education Plan of 1972. which galvanized the decline of social science education in the country. As more focus was given on technical and vocational education, social sciences gained less priority as a result. I, like most of the students of my generation, cleared middle school and high school without studying subjects like politics, economics, history, or geography. Due to this limited political literacy among the youth, politicians often tend to assume that aspiring youths are not qualified for leadership positions. The lack of social science education and opportunities for leadership left the younger generation less interested in politics than their older counterparts.
However, the recent three-tier election results (local, provincial, and central) sent positive signs for more youth engagement in Nepal's administration in the future. Of the seven newly installed chief ministers, only one is around 70. In another welcome sign, 40.9 percent of representatives in local bodies are women along with other marginalized communities. The majority of young local representatives lack administrative experience in government, but they can now cut their political teeth in the newly created local bodies. For aspiring leaders, continuous political participation is a necessity for future advancement.
In Nepal, the meaning of "youth" extends well beyond its traditional definition. In a country where even a 70- year-old leader is considered a "youth activist" and most of the university union leaders are well above the student age, aspiring young leaders for years have been under the thumb of the old guard. The transition currently underway toward youth leadership will not only provide better government but also better opposition, as the new generation has a chance to invest more time in the development of party organizations and the nation's bureaucracy rather than seeking profits for personal gain. For this to happen, top leaders need to revive their party road maps, allow for more intellectual discourse, and create an environment where debate centers of facts and evidence rather than personal interests. Importantly, up-and-coming leaders should be rewarded for their work ethic and dedication through promotions rather than public appraisals, as has happened in the past. This will be a challenging task for the current government.
Raunab Singh Khatri is a Masters' candidate at Peking University, China. His research interests focus on China and South Asia.