The Rise of South Korea's Soft Power in the Middle East
As the case of the UAE shows, Seoul has enticed greater relations via pop culture and reinforced its interests with economic power.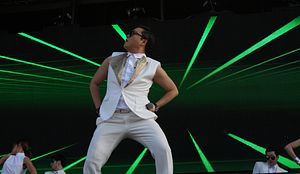 South Korea's global image is changing; it has emerged as a global powerhouse in technological innovation and pop icons.  The exportation of its pop culture is a classic soft power tool, which Seoul has used to efficiently on a global scale and most recently in the Middle East.
The South Korean government plans to further its soft power appeal by supporting local artists that enhance Korean culture, forming an ecosystem of art supporters, adding dance and theater to the education curriculum, and providing welfare for artists. These new policies will further be supported by research incubators and the enhancement of liberal laws. According to Kim Jae-won, the former director of the Korean Culture and Information Service (KOCIS)*, the development of national branding is focused on the foreigner's perspective of Korea, and aims to present South Korea as a unique nation that is more than just a country that overcame Japanese colonization and the Korean War. South Korea's pop culture, also known as hallyu, is a tool the country is using to further develop its national brand and present its culture on the global stage.
The term hallyu — or Korean Wave — was coined in the late 1990s during the rise of global interest in South Korean pop culture through music, television series, and movies. The first Korean Wave took place in the 1990s, spreading rapidly in East and Southeast Asia to Vietnam, China, Taiwan, Japan, and Hong Kong. South Korea and China established diplomatic relations in 1992. Within five years, over 150 million Chinese were watching Korean TV dramas and listening to Korean pop music through a dedicated radio program called "Seoul Music Room." The rise of K-drama and K-pop into a national phenomenon in China was the beginning of South Koreans recognizing its potential as a cultural phenomenon and its global impact.
The second Korean Wave came through in 2012 and reached a more global audience, including the Middle East, Europe, and North America. K-pop entered the U.S. Billboard Top 100 and Official U.K. Top 40 Singles Chart in 2012, with Psy's "Gangnam Style."  The global craze expanded into popularizing Korean food, language, literature, and traditional culture. By 2013, 987 hallyu-related organizations were active, encompassing 9 million members worldwide.
In the United Arab Emirates (UAE), in particular, such groups are present mainly in higher education institutes such as UAE University, the American University of Sharjah, and Middlesex University Dubai. The second Korean Wave brought South Korean pop culture into the spotlight in the Middle East, which in return has increased the overseas impact of broader Korean culture, people, and business. Hallyu has enhanced Middle Easterners' familiarity with the country and South Korea's public image, leading to increasing interest in visiting South Korea. The by-product of South Korean drama and K-pop has been the promotion of Korean language, food, cultural products, and tourism among Middle Easterners and others.
In 2005, Samsung Economic Research Institute released a report titled "The Korean Wave Sweeps the Globe" analyzing the economic effects of the Korean Wave. The report identified four stages that countries fit into: enjoying Korean pop culture; buying Korean pop culture-related merchandise; buying "Made in Korea" products; and a general preference for Korean culture. The UAE falls under the third category, buying Korean-made products. As a result, there has been an increase in South Korean merchandise appearing in the global travel hubs of Dubai and Abu Dhabi.
With the increased demand for Korean products, economic ties between UAE and South Korea are growing stronger. In addition to big investments made between the two countries, such as infrastructure and the construction of UAE's nuclear power plant, residents of the UAE are buying Korean products in their stores. A notable increase in demand has been seen in the Korean automotive and electronic industry in the past decade in the UAE. Similarly, the demand for Korean beauty products in the UAE has increased by 300 percent since 2012, according to Mizon Creative Beauty Lab, a Korean manufacturer of beauty products. According to Mizon, the increase resulted from the influence of hallyu in the Middle East.
Additionally, South Korea is increasing its investments in order to attract more tourists from the Middle East. One way of doing so was by adopting UAE's Halal certification.  This introduction will increase the availability of halal food within South Korea and exports of Korean food products to the UAE. According to Dr. Kim Jae-soo, president and chief executive of the Korea Agro-Fisheries and Food Trade Corporation, the demand for South Korean products is increasing yearly and with the development of the halal industry, South Korea will be able to increase its agricultural exports. In addition to benefiting the South Korean economy, the UAE will be able to increase its source of food imports and avoid shortages, as 90 percent of UAE's food is imported.
South Korean pop culture appeals to fans in the UAE as they consider it more conservative than popular Western media. This is apparent in the language used as well as clothing and makeup styles. Although for some fans it is a form of entertainment, more youths are turning from fascination with Korean culture toward developing Korean language skills and pursuing higher education in South Korea or working for a South Korean company.
Korean-focused clubs in UAE's universities are an example of the youth's fascination with Korean culture. Such clubs are dedicated to students that gather to enjoy South Korean drama, music, food, fashion, and language. This interest has also led to the development of Korean language classes, such as the King Sejong Institute, which opened at Zayed University in 2010 with the support of the South Korean government. 
Hallyu is the soft side of bilateral ties between South Korea and the UAE. Their relations have strengthened and deepened in hard power terms as well. The two have growing ties in trade, economic, and military matters, including South Korea taking the lead in the consortium to build UAE's first nuclear plant. In the UAE, South Korea is successfully utilizing all the tools of hard and soft power — so-called "smart power."
*A previous version of this article mistakenly identified Kim Jae-won as the director of KOCIS.
Donya Saberi is a Dubai-based social science researcher. She is currently a visiting researcher and lecturer at Middlesex University, Dubai.